Research article

Open Access

Open Peer Review
This article has Open Peer Review reports available.
Evaluating medical student engagement during virtual patient simulations: a sequential, mixed methods study
BMC Medical Education
BMC series – open, inclusive and trusted
2016
16:20
Received: 6 June 2015
Accepted: 6 January 2016
Published: 16 January 2016
Abstract
Background
Student engagement is an important domain for medical education, however, it is difficult to quantify. The goal of this study was to investigate the utility of virtual patient simulations (VPS) for increasing medical student engagement. Our aims were specifically to investigate how and to what extent the VPS foster student engagement. This study took place at A.T. Still University School of Osteopathic Medicine in Arizona (ATSU-SOMA), in the USA.
Methods
First year medical students (n = 108) worked in teams to complete a series of four in-class virtual patient case studies. Student engagement was measured, defined as flow, interest, and relevance. These dimensions were measured using four data collection instruments: researcher observations, classroom photographs, tutor feedback, and an electronic exit survey. Qualitative data were analyzed using a grounded theory approach.
Results
Triangulation of findings between the four data sources indicate that VPS foster engagement in three facets:
1)

Flow. In general, students enjoyed the activities, and were absorbed in the task at hand.

2)

Interest. Students demonstrated interest in the activities, as evidenced by enjoyment, active discussion, and humor. Students remarked upon elements that caused cognitive dissonance: excessive text and classroom noise generated by multi-media and peer conversations.

3)

Relevance. VPS were relevant, in terms of situational clinical practice, exam preparation, and obtaining concrete feedback on clinical decisions.
Conclusions
Researchers successfully introduced a new learning platform into the medical school curriculum. The data collected during this study were also used to improve new learning modules and techniques associated with implementing them in the classroom. Results of this study assert that virtual patient simulations foster engagement in terms of flow, relevance, and interest.
Keywords
Engagement
Virtual patient simulation
Learning-centered instruction
Technology-enhanced learning
Background
Undergraduate medical education is moving toward technology-enhanced, engaging, experiential learning [1–3]. Educators concur that active, learner-centered instructional approaches are more successful than lecture for capturing the interest of the present generation of learners [4–7]. New media literacy research [8, 9] indicates that the current Internet generation student population is more fully engaged by electronic media and audio-visual stimulation. In response to these trends, we sought to increase student focus, participation, and collaboration through interactive, technology-enhanced instruction during first year small group clinical case practice [6, 7]. Following a student-centered andragogy [10] calling for increased use of education technology, active learning, student choice, swift feedback, and peer discussion, we designed interactive virtual patient simulations (VPS) to increase engagement.
VPS are interactive computer simulations of real-life clinical scenarios for the purpose of medical training, education, or assessment [11]. This medium was selected because VPS deliver instruction in an interactive modality suitable for first year medical students, who are typically comfortable with multi-media and web-based games [8, 12–14]. Saleh [15] asserts VPS provide students with control over the learning episode and opportunities to learn by trial and error. VPS provide a risk free environment for practicing clinical encounters [16]. Situational learning theory [17] supported our efforts to foster peer co-construction of knowledge by solving real life problems in a situational context [17] (a patient encounter) through the medium of a VPS.
Prior to this project, small group cases were delivered via PowerPoint. Similar issues reported by other medical educators [18] were observed: during small groups, some students did not have a chance to contribute to discussion as much as others, self-assessment was not part of the lesson plan, nor did students have a chance to reflect upon what they had learned about each case. Congruent with design recommendations of simulation game educators [19–21] and VPS experts, this project sought to enliven the student experience through a participatory experience inviting clinical discussion, self-guided interaction, and reflection.
Education game theorists suggest that virtual worlds provide learning spaces in which pleasure and satisfaction are derived from increased competence [13, 22], and that virtual simulations are effective because they provide students with learning spaces, which allow them freedom to experiment, process evidence, and collaborate in authentic scenarios [23]. It was hoped that the new VPS would draw students into the patient's story, contextualized in a health center clinic environment. Deterding et al. [22] describe the activation of learner self-motivation through autonomous goal pursuit, rule negotiation and symbolic reasoning, leading to creativity. Rotgans and Schmidt [24] described engagement while problem solving as "situational interest", a state supported by peer inquiry, in which student curiosity is piqued by the enigmatic nature of a problem as they proceed to search for data to answer questions.
While several studies have documented the effectiveness of VPS in medical education [16, 25, 26], few studies apply mixed methods to measure medical student engagement during VPS. Edelbring et al. [18] conducted a phenomenological, mixed methods study featuring recorded interviews with 31 medical students. Results from this study indicated that the VPS allowed students to actualize theoretical knowledge, and were characterized by student's active engagement in reasoning. Pantziaras et al. [27] studied the perceptions of eight students and nine faculty after a VPS module, and reported that participants received the exercise well in terms of realism, excitement, engagement, and active learning. Courteille et al. [28] collected open-answer comments from 68 fourth-year medical students after a computer simulation. These researchers found students appreciated the immediate feedback received after clinical decision-making, and that outcomes related to arriving at a correct diagnosis after 10 min during a VPS Objective Structured Clinical Examination (OSCE) were correlated with the process of thinking aloud during the exercise.
The construct of engagement
In this study, we explore aspects of engagement in the context of simulated clinical decision making for first-year medical students. Our VPS provided case scenarios that required rapid-fire group clinical decisions during a timed exercise. For the purpose of our research, we measured engagement as flow, relevance and interest.
Flow
Flow is a construct used by education researchers to operationalize facets of engagement and active learning [29–31]. According to Csíkszentmihályi [32], flow experience is facilitated by clear objectives, immediate feedback, the proper level of lesson difficulty, and control. Flow manifests as increased concentration and focus, transformation of time, and a perception that an activity has intrinsic value.
Schiefele and Raabe [31] assert that engagement may be measured by a participant's self-reported degree of flow (absorption in the activity), and state concentration (concentration on task). Admiraal et al. [29] explain that flow invokes the "growth principle" (p.1186). Once students master a task, they seek a progressively more challenging task. Even demanding intellectual activities can promote flow because these activities provide satisfying interactions that scaffold students through a series of difficult tasks. Furthermore, these researchers explain flow may be measured in two ways: by self-assessment, meaning the students fill out a survey, or by instructor observation of a learning experience.
Relevance
Learner motivation experts [17, 30, 33] explain that adults are more intrinsically motivated to complete learning tasks when they understand their full value and relevance to academic, workplace, or personal goals. We sought to understand whether VPS lessons would be deemed valuable in terms of a lesson's ability to increase interest in clinical practice, provide relevant feedback, and enhance preparation for examinations.
Interest
These VPS were designed to add variety [5] to the learning environment and provide exposure to new experiences in terms of patient encounters.
Research questions
The aim of this study was to test a new type of VPS intended to foster engagement during clinical case practice. This study investigated two research questions:
1)

In which ways do VPS foster engagement?

2)

How can these activities be improved next implementation?
Methods
Research design
Authors selected a mixed methods design to improve the overall strength of the findings, incorporating both qualitative and quantitative data [34]. To answer the research questions, researcher observations, classroom photographs, tutor feedback, and student Exit Survey results were triangulated. This process provided a rich set of data with which to describe specific mechanisms whereby VPS engaged students during simulated patient encounters. Since data collection progressed over four sequential classroom sessions, culminating in a student exit survey at the end of the year, we describe this study as "sequential". A modified design-based research (DBR) approach was used to gradually improve the new learning tools over time [35]. The expected outcome was that the VPS would be engaging. Following methods used by DBR experts Barab and Squire [35], and grounded theory processes similar to those used by Bateman et al. [1], data were reviewed in order to identify areas for improvement, resulting in suggested "design solutions".
Setting
This design-based research study took place at an osteopathic medical school in the Southwest United States. Subsequent to a field test in August 2013 with the previous cohort, the main study took place October - December, 2013. This intervention–VPS modules–was implemented four times over two months (with the entire sample of student participants participating in each implementation). Data collection occurred during the neuro-musculoskeletal (NMSK) and cardio-pulmonary courses as part of weekly mandatory small group class meetings for first-year students. This study was exempted by two university ethics committees from ongoing reporting requirements for "human subjects" research: 1) the A.T. Still University Institutional Review Board and 2) the Arizona State University Office of Research Integrity and Assurance.
Participants
The entire class of 2017 first year medical students (n = 108) participated in the study as part of normal classroom activities. Six faculty small group tutors participated as part of normal teaching duties. Tutors were DO and MD physicians in the disciplines of family medicine, internal medicine, neurology, and pediatrics, with 5–40 years of primary care practice, and 1–15 years of experience leading small groups.
The intervention
In 2013, the school's Technology-Enhanced Active Learning for Medical Education (TEAL-MEd) team [
36
] faculty developed four VPS for the current study using the clinical presentation approach [
37
,
38
]. A screen capture from a sample VPS case is provided in Fig.
1
.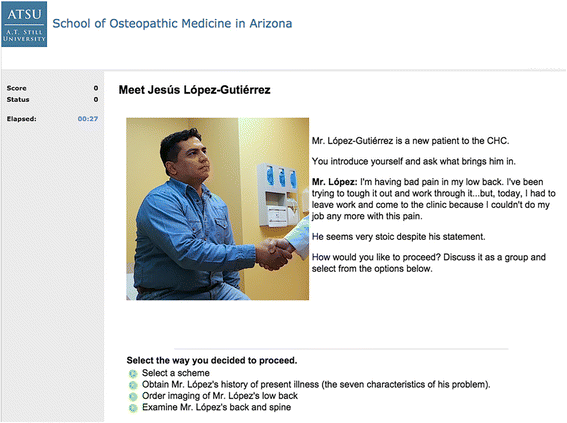 These VPS exercises afforded student teams the opportunity to manage a patient encounter and formulate a general diagnosis. The modules prompt students, working in teams of three, to make clinical decisions through every phase of the clinical encounter (presentation, history, physical exam, lab findings, diagnosis, treatment, and plan). Consistent with VPS design principles suggested by experts such as Posel, McGee and Feiszer [39], these exercises were designed to engage students through peer discussion regarding each clinical choice, and to provide continuous, immediate feedback after every decision so that students have the opportunity to learn from errors. Consonant with design principles suggested by Huwendiek et al. [40] the modules were designed to be 1) relevant in terms of being important cases, 2) level-appropriate, 3) interactive, 4) offer concrete feedback for each decision, 5) include sound and video media, 6) focus on relevant learning points, 7) summarize key learning points, 8) provide the authentic experience of being the lead healthcare provider (doctor in charge), 9) require students to make all the clinical decisions a physician would make, and 10) enhance clinical reasoning (in our VPS format, students practice inductive reasoning based on synthesis of evidence).
Modules were developed using the DecisionSim™ [41] system, which provides decision dilemmas to students through a web-based case player. We selected this format for its branching design, ease of use and multimedia capabilities. The case-writing template allowed faculty authors to embed video, sound, and links to external sources. As described using the typology framework suggested by Huwendiek et al. [42], (See Additional file 1), the VPS were designed for first year students, followed a progressive disclosure approach beginning with a clinical presentation. The modules aligned to both clinical and professionalism objectives, and provided pre-formulated feedback for every clinical choice. The VPS modules were outfitted with gamification elements [22], including meters for score and status (health status of the patient), cost of care, dramatic story line, rewards for high scores such as videos, and auto-play sound and video. The VPS modules tracked learner performance; student teams earned points for each clinical decision during the case. The maximum number of points teams could attain for a given case was 100 points.
The technique
During the NMSK course, students engage in case practice once every week. Due to small group classroom space constraints, first year students are divided into two sessions for case practice. During Session 1, half of the student sample (n = 54), was distributed to six break-out rooms, each supported by a physician-tutor, for a two-hour case practice with three cases (the first of which was a VPS, the remaining two were Powerpoint cases). During Session 1, the other half of the student sample (n = 54) attended Anatomy lab in a different classroom. During Session 2, the activities were reversed. To clearly frame the VPS lesson, tutors handed out instructions to students at the beginning of the class period, a technique that reflects lesson design suggestions by Winberg and Hedman [43]: providing guiding instructions at the beginning of a computer simulation is correlated with challenge, enjoyment, and concentration.
Lesson sequence
At the request of tutors, students quickly formed self-prescribed peer-groups with three-to-four members. Sharing one laptop, each team assumed control of an exercise and worked through the 20-min DecisionSim VPS case. Tutors circulated in the small group room. After completion of the case study, each tutor led a debriefing of the VPS case. Next, tutors continued with their presentation of a traditional case (in PowerPoint). Figure
2
contrasts the breakout room configurations for traditional and intervention formats. During VPS, students moved into the intervention format, and during the traditional part of the lesson, they moved back into traditional formation.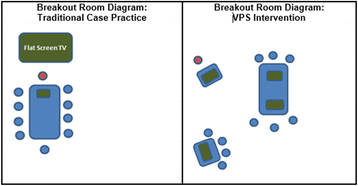 Measures
This study reports data from four measures: Researcher Observations and Analysis Memos, Classroom Photographs, Tutor Feedback and Exit Survey. Results are reported separately by data source, and then triangulated to answer each research question or hypothesis.
Discussion
To answer the research question regarding the ways VPS foster engagement, data were triangulated from researcher observations and memos, classroom photographs, tutor feedback and exit survey Likert ratings. In terms of the engagement sub-component flow, triangulation of findings between several data sources supported the assertion that VPS fostered flow. Survey data suggest that most students enjoyed activities, lost track of time, found activities exciting, or were absorbed in the activities. Analysis of 165 photographs during VPS indicated most students were focused when completing these exercises, an indicator of flow or absorption in task. Tutor feedback confirmed most students were involved and concentrating on the activity.
The second sub-component of engagement was interest. Triangulated findings support the assertion that VPS fostered interest. Exit survey results, researcher analysis memos and tutor comments corroborated that VPS, a new style of learning activity, seemed to engender enjoyment, focus, and humor, but also suggested elements of cognitive overload: excessive text, confusion, and noise generated from three students in the room. The third component studied was relevance. Taken together, exit survey results, observation analysis memos and screen captures support the assertion that VPS activities are relevant to student goals such as situational clinical practice, exam preparation and obtaining concrete feedback on clinical decisions.
That students elected to continue playing after their time expired was further evidence they enjoyed the VPS. Observations from the control room indicated that after completing the competency task, in nearly every case, even after the 20 min mark, if the case was not complete, students voluntarily returned to the case to finish it, and revealed their interest in more time by remarks on the exit survey.
Mixed methods findings for the eight dimensions of engagement (Table 9) lend support to similar assertions from game theorists, indicating that this generation benefits from a variety of teaching modalities in the learning environment [4, 5]. Literature from the field of situational learning [17, 57] indicates that students benefit from relevant feedback and exposure to new experiences. Feedback triangulated from Exit Survey responses, and Researcher observation memos provided input that were used to generate ten design solutions in order to improve the activities next implementation (Table 10).
Conclusion
This study's objective was to investigate whether VPS increase student engagement during clinical case practice. The triangulated evidence from multiple measures confirmed engagement in three dimensions: flow, interest and relevance. Photographic evidence and tutor observations confirmed that during a VPS, students were focused on the task at hand, an indication of flow [29]. VPS design features such as embedded movies, decision prompts, and score meters fostered opportunities to discuss the case. Exit survey results, observations, and tutor comments confirmed that the VPS provided variety and were relevant. Photographic data triangulated with tutor observations suggested a high level of student engagement, such as leaning in, avid peer discussion, humor, and the expressed desire to continue longer with the case.
Barriers to better engagement included time constraints, excessive text, classroom noise, frustration with difficult concepts and limited interaction with tutors. Photographs and tutor comments provide a different perspective; students appeared to be absorbed and focused on the activity. While the students were highly focused on the clinical tasks, survey responses and analysis of student dialog revealed that some parts of the clinical cases were challenging and students were concentrating on point totals under time duress. Grappling with challenging features of complex problem solving tasks is described in the literature as "struggle" [55]. However, in each VPS case observed, students pooled knowledge to reason through the evidence to arrive at consensus decisions. There were opportunities during a subsequent debrief with clinical tutors to clarify muddy points. Taken together, the body of data supports the goal-orientation aspect of flow theory, that students derive satisfaction from activities which relate to student goals [32]. They were motivated to finish tasks on time and provided detailed and abundant input on the exit survey.
Limitations
The assertions from this study must be considered as naturalistic generalizations [10], meaning they are generalizable to the specific study context. While results from this study may be considered valid for the study site, they cannot be generalized to a wider population. These findings, supported by data triangulation, may be of use to other investigators in designing studies or in testing theories in new contexts. In attempting to apply these methods and findings toward an innovation in a different context, investigators should consider the specific constraints, type of VPS employed, outcome measures used, and the natural environment of the study setting.
Future directions
Results from this study support continued integration of VPS in the curriculum, with attention to continuous quality improvement cycles as the cases are implemented in the classroom. Findings from this study provide evidence in support of specific design enhancements such as streamlining text, adding navigation tools, and refining the lesson plan to increase student engagement. This means limiting the number of VPS activities, keeping them streamlined and brief and allowing opportunities for students to interact with clinical tutors as much as possible. This research uncovered exciting potential for photographic data analysis. In the future we intend to continue to evolve the codes and categories in the photographic analysis rubric and conduct a rater reliability study [47]. During this implementation, VPS authors experimented with gamification elements adding a community healthcare thematic back drop, connecting characters from case to case and constructing care dilemmas with three different levels of patient outcome: a patient recovers fully, a patient requires surgery reducing quality of life, or a patient dies. Even though describing these designs in detail fell outside the scope of this paper, this research inspired new directions for dramatizing the cases to make them more engaging and realistic, with the ultimate goal of modeling a new paradigm of patient care that is team-based and patient-focused.
Abbreviations
ATSU-SOMA:

A.T. Still University's School of osteopathic medicine in Arizona
HPI:

history of the present illness
NMSk:

neuro-musculoskeletal
TEAL-MEd:

Technology-Enhanced Active Learning for Medical Education
VPS:

virtual patient simulation
Declarations
Acknowledgements
The authorship team would like to acknowledge Thomas Bennett, DO, and Noel Carrasco MD, from the School of Osteopathic Medicine in Arizona, who were instrumental in writing the cases, and Bobbi Catton, who formatted the citations. We thank educators Ann Ewbank, PhD and Keith Wetzel PhD, who provided mentorship in grounded theory during the data collection and the process. Ade Anast, PhD from A.T. Still University Writing Center, edited the document.
Authors McCoy, Pettit, Lewis, Allgood and Schwartz were funded by A.T. Still University's School of Osteopathic Medicine in Arizona. Statistician Curt Bay, PhD was funded by A.T. Still University's the Arizona School of Health Sciences.
Open AccessThis article is distributed under the terms of the Creative Commons Attribution 4.0 International License (http://creativecommons.org/licenses/by/4.0/), which permits unrestricted use, distribution, and reproduction in any medium, provided you give appropriate credit to the original author(s) and the source, provide a link to the Creative Commons license, and indicate if changes were made. The Creative Commons Public Domain Dedication waiver (http://creativecommons.org/publicdomain/zero/1.0/) applies to the data made available in this article, unless otherwise stated.
Authors' Affiliations
(1)
A.T. Still University, School of Osteopathic Medicine in Arizona, Mesa, USA
(2)
A.T. Still University, Arizona School of Health Sciences, Mesa, USA