Research article

Open Access

Open Peer Review
This article has Open Peer Review reports available.
Effectiveness of training in evidence-based medicine skills for healthcare professionals: a systematic review
BMC Medical Education
BMC series – open, inclusive and trusted
2016
16:103
Received: 7 October 2015
Accepted: 11 March 2016
Published: 4 April 2016
Abstract
Background
Basic skills in evidence-based medicine (EbM) are indispensable for healthcare professionals to promote consumer-centred, evidence-based treatment. EbM training courses are complex interventions – a fact that has not been methodologically reflected by previous systematic reviews.
This review evaluates the effects of EbM training for healthcare professionals as well as the quality of reporting of such training interventions.
Methods
We searched PubMed, EMBASE, CINAHL, Cochrane Library, ERIC, Campbell Library and PsycINFO up to 9/2014. Randomised controlled trials, controlled clinical trials as well as before-after trials were included. Authors were contacted in order to obtain missing data. Two independent reviewers extracted data and assessed risk of bias.
Results
We reviewed 14.507 articles; n = 61 appeared potentially eligible; n = 13 involving 1,120 participants were included. EbM training shows some impact on knowledge and skills, whereas the impact on practical EbM application remains unclear. Risk of bias of included trials raises uncertainty about the effects. Description of complex interventions was poor.
Conclusions
EbM training has some positive effects on knowledge and skills of healthcare professionals. Appropriate methods for development, piloting, evaluation, reporting and implementation of the training should be applied.
Keywords
Evidence-Based MedicineEvidence-Based NursingComplex interventionEducationHealth Personnel
Background
Evidence-based medicine (EbM) is a prerequisite for decision-making in healthcare. All over the world, healthcare institutes follow the principles of EbM when reviewing and assessing the evidence for healthcare decision-making [1, 2]. The paradigm shift towards EbM challenges the methodological skills and attitude of healthcare professionals. A consumer-centred, evidence-based treatment requires basic EbM skills and scientific literacy [3, 4].
The transfer of evidence into routine care is often not optimal [5]. Barriers that impede the implementation of EbM have been extensively researched. Lack of time to put EbM into practice, false beliefs about EbM, insufficient support in the clinical setting and limited critical appraisal skills are the barriers that healthcare professionals most often face [6, 7].
There is empirical evidence that EbM training activities improve knowledge and skills needed for the critical appraisal of scientific papers [8]. Traditionally, training and continuing education in EbM focus on physicians. An early systematic review by Shaneyfeld and colleagues identified 104 trials on EbM training courses; n = 91 addressed physicians [9]. However, during the last few years curricula and textbooks aiming to achieve EbM competencies for allied healthcare professionals have been developed. Training courses in EbM skills for nurses, diabetes educators and other professionals associated with health have been shown to be feasible and well appreciated [10, 11]. Organizations like the Joanna Briggs Institute or the Centre of Evidence-Based Physiotherapy, which provide a variety of EbM workshops and learning opportunities for nurses, physical therapists, midwives, medical and allied health researchers, have been established. EbM resources have been made accessible, for instance, a free database of randomised trials, systematic reviews and clinical practice guidelines in physiotherapy. To address the increasing teaching demand and the need to improve the effectiveness of EbM, train-the-trainer courses have been developed [12]. Training in EbM for patients and consumer representatives is offered by some organisations [13, 14].
A variety of different approaches exists for teaching and learning EbM, for instance, by attending courses, conferences, workshops or journal clubs [15]. Recent systematic reviews showed inconsistent effects regarding the effectiveness of different EbM teaching and learning methods. Coomarasamy and Khan evaluated the effects of stand-alone versus clinically integrated teaching in EbM on several outcomes in postgraduates [16]. Stand-alone teaching was defined as classroom teaching, either didactic, interactive, or mixed. A total of 23 randomised controlled, controlled clinical as well as twelve before-after trials were included in this systematic review. Knowledge was assessed in 17 trials, critical appraisal skills in nine trials, changes in attitudes in six, and behavioural change in 14 trials. None of the trials evaluated clinical health outcomes. Stand-alone teaching as well as integrated teaching was effective in improving EbM knowledge but only clinically integrated teaching improved skills, attitudes, and behaviour [16]. Outcomes were predominantly determined by self-assessment. In contrast, a recently published Cochrane review on the effectiveness of training conducted to increase the "critical appraisal" skills only included trials if the assessment of outcome measures was based upon standardised and reliable instruments (e.g. tests, questionnaires). Three randomised controlled trials with 272 participants fulfilled the inclusion criteria. While a statistically significant improvement in participants' critical appraisal knowledge was seen in two of the three trials, none of the three trials evaluated the process of care or patient outcomes [17].
Former systematic reviews dealing with EbM training activities have not taken the complexity of educational interventions into account. Complex interventions typically comprise interacting elements that are also influenced by contextual factors [18]. Educational interventions are often heterogeneous in their underlying theory, the methods used, the format and intensity, and the target population. The development of educational interventions requires great investment in testing procedures for their feasibility and acceptability prior to large-scale evaluations. The process of implementation should ideally be carefully prepared and piloted and it is recommended to take the whole chain of complex intervention development and evaluation into account while reviewing complex interventions. Thus, a non-customary approach for evidence synthesis is needed. The UK Medical Research Council (MRC) has provided the framework for understanding and appraising complex interventions [18–21]. All relevant patient outcome parameters need to be assessed, interdependencies between active elements should be taken into account, and all trials referring to development, evaluation and implementation of the educational intervention should be considered. The theoretical basis and its influence on the education program should be analysed. Adequate reporting of the elements and interdependencies within complex interventions are the prerequisite to interpret the outcomes.
To the best of our knowledge, a systematic review on EbM training for healthcare professionals with respect to the complexity of the educational interventions has not been performed. Therefore, the objective of this review is to evaluate the effects and the quality of the reporting regarding development and implementation of EbM training for healthcare professionals.
Methods
The review protocol has been registered in PROSPERO International Prospective Register of Systematic Reviews (crd.york.ac.uk/prospero/index.asp Identifier CRD42014013579).
Types of trials
We included all individual and cluster-randomised controlled trials (RCTs), controlled clinical trials (CCTs) as well as before-after trials. Non-blinded trials were included in the review, since blinding of participating healthcare professionals seemed to be unrealistic. The publication language was restricted to English and German.
Types of participants
Healthcare professionals in any clinical or academic setting were included. Trials on EbM training solely for physicians, medical students, patients and patient representatives, managers or purchasers were excluded.
Types of interventions
This review focuses on educational interventions aimed at improving EbM knowledge, skills, attitudes and behaviour in healthcare professionals. The interventions might cover the following contents: Formulating questions that could be answered by a systematic literature search; performing a systematic literature search; critically appraising selected publications; communicating trial results to consumer and patients.
We excluded trials that investigated the effects of teaching solely biostatistics or search strategies, programs focusing on specific health problems, medical education in general (not EbM in particular), and trials testing the effectiveness of implementing evidence-based guidelines.
Types of outcome measures
1.

Outcome measures were attitudes, knowledge, skills, and behaviour regarding EbM which were objectively assessed through validated instruments.

2.

Impact of EbM training on the implementation of EbM in routine care and patient-relevant outcomes like mortality, morbidity, and quality of life were assessed.
Search methods for identification of trials
The literature search strategy followed the Cochrane Handbook for Systematic Reviews of Interventions, version 5.1.0. [22]. MEDLINE, EMBASE, CINAHL, Cochrane Library, ERIC, Campbell Library and PsycINFO were searched systematically in September 2014.
The following terms were used: "Health Personnel (MeSH term)", "dietician", "dietitian", "diabetes educator", "evidence-based medicine", "evidence-based nursing", "evidence-based practice", "evidence-based", "journal club", "critical read*", "critical appraisal", "science literacy", "health literacy", "risk literacy", "education (MeSH term)", "train*"
Reference lists of published reviews and included articles were checked for additional trials. If the full text was not available, the authors of the trials were contacted.
Selection of trials
Two review authors (LH, SB) independently assessed titles and abstracts from the search. Eligible articles were assessed for inclusion. Disagreement was solved by consensus.
Data extraction and management
Based upon CReDECI [
23
] and the CONSORT statement [
24
], we developed a standardized data extraction form that included information on the development, evaluation and implementation of complex interventions:
Description of the intervention

Description of the intervention's development (e.g. theoretical and/or evidence base)

Information on pilot testing

Delivery of the intervention (who, how often, how long?)

Description of the implementation strategy

Description of any material and method used

Method of assessing participants' preferences/interests/experiences

Description of process evaluation

Information on costs/resources needed for the implementation of the intervention

Description of what has been offered in the control group.
Data were extracted by two independent reviewers (LH, SB) and checked for accuracy. In case of discrepancy, the third review author (GM) was called in to reach consensus. Quality criteria following the Cochrane Handbook for Systematic Reviews of Interventions Version 5.1.0 [22] were applied in order to assess the risk of bias of included trials. Critical appraisal of trials was carried out by two independent reviewers. In the case of unclear or missing information, the corresponding author of the trial was contacted.
Since we found pronounced methodological heterogeneity, the trial results are presented in a narrative form only.
Results
A total of 14.507 articles were identified, of which 61 were considered for inclusion. After screening the full text articles, a total of 13 trials were included: four randomised controlled trials [
25
–
28
], two controlled clinical trials [
29
,
30
] and seven before-after trials [
11
,
31
–
36
]. Sample sizes ranged from
n
 = 30 [
26
] to
n
 = 168 [
29
] with a total of 1,120 participants. The reasons for exclusion are reported in the flow diagram (Fig.
1
). In seven trials, participants' age was not reported [
11
,
27
,
29
–
31
,
33
,
34
]. In the remaining trials, the age ranged from 18 to 64 years.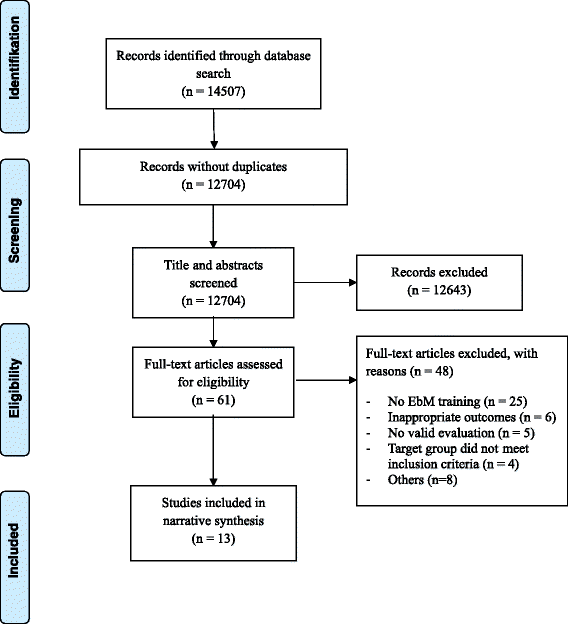 Trials were conducted in the United States of America [27, 30, 32, 35], the United Kingdom [26], Australia [31, 33, 34], Canada [36], Germany [11], Taiwan [29], Philippines [28] and Iran [25].
Healthcare professionals involved in these trials were predominantly nurses or nursing students, nurse managers, occupational therapists, physiotherapists, speech pathologists, dieticians and diabetes nurses or diabetes instructors with or without academic background and varying job experience.
The total trial duration ranged from eight weeks [
35
] to 27 months [
32
]. The characteristics of the included trials are summarized in Table
1
.
Table 1
Characteristics of included studies (n = 12)
Authors

Design

Setting/Location

n (study completed)

Age (years)

Study/Observation Duration

Profession

Job Experience

Bennet et al.

Before-after trial

University of Queensland, Brisbane, Australia

94 (59)

Not reported

1 university semester course duration 13 weeks

Undergraduate final year occupational therapy students (n = 32)

Postgraduate physiotherapy students (n = 27)

Students

Kim et al.

Before-after trial

Collaboration between hospitals and university, San Diego, California, USA

159 (111)

42 (range 22–64)

2008–2010

3 annual cohorts of nurses attending the 9-month collaborative regional fellowship program.

Pre-test and post-test (after 9 months)

Staff nurse (n = 58)

Nurse manager (n = 9)

Clinical nurse specialist/Nurse educator/Nurse practitioner (n = 63)

16 (range: 1–42) years

Lizarondo et al.

Before-after trial

Healthcare facilities, Tasmania, Australia

93 (93)

Not reported

6 months

Speech pathologists (n = 10), physiotherapists (n = 19), social workers (n = 16), occupational therapists (n = 36), dieticians/nutritionists (n = 12)

Academic background:

Undergraduate qualifications n = 53

Postgraduate qualifications n = 40

Length of clinical

practice:

<5 years n = 19

>5 but <10 years n = 17

>10 years n = 49

not reported n = 8

McCluskey et al.

Before-after trial

School of Exercise and Health Sciences, New South Wales, Australia

114

FU 1 (post intervention) 106

FU 2 (8 month post intervention) 51

Not reported

November 2001–March 2003

Professional occupational therapists

Qualification:

Diploma n = 15/degree n = 99

Time since graduation:

<5 years n = 29

>5 but < 10 years n = 19

>10 years n = 66

Meyer et al.

Before-after trial

Diabetes educator courses in Germany.

Centres providing the diabetes educator graduate programme accredited by the German Diabetes Association

121 (93)

Not reported

2003–2004

Diabetes nurse specialists (65 %) or diabetes counsellors without a university degree, 3 % of the participants were dieticians with a university degree

Not reported

Varnell et al.

Before-after trial

Acute care setting Texas, USA

102 (98)

43.6 (range 22–62)

8 weeks

Registered nurses

14.7 (range 1–41) years

Yost et al.

Before-after trial

School of Nursing McMaster University, Hamilton, Canada

40 (21)

44.3 ± 9.2

May 2010–November 2010 (6 month)

Registered Nurse (n = 25)

Advance practice nurse (n = 1)

Physicians (n = 1)

Librarian (n = 2)

Other (n = 10)

Not reported (n = 1)

Main job function:

Executive officer (n = 2)

Associate medical officer of health (n = 1)

Program manager/administrator (n = 14)

Direct service/care provider (n = 5)

Research (n = 2)

Policy development/analysis (n=

1)

Faculty (n = 8)

Other (n = 6)

Not reported n = 1

Baccalaureate (n = 20)

Masters (n = 18)

Other (n = 1)

Not reported (n = 1)

Chen et al.

Nonrandomised controlled trial

2-year nursing program at one college, Taiwan

IG 94 (94)

CG 74 (74)

Not reported

1 semester

Students graduated from junior nursing schools with clinical practicum experience

IG:

(n = 13)

Working experience (1 month to 2 years as a nurse)

(n = 81)

No working experience

CG:

(n = 6)

Working experience (1 month to 2 years as a nurse)

(n = 68)

No working experience

Courey et al.

Nonrandomised controlled trial

University, Ohio

IG 19 (19)

CG 39 (39)

Not reported

1 semester

First year students in a 2-year associate degree nursing program

Not reported

Jalali-Nia et al.

Randomised controlled trial

Baccalaureate nursing program, Teheran, Iran

IG 20 (20)

CG 21 (21)

Not reported

1 semester

Students in the second year of the baccalaureate nursing program

Not reported

Stevenson et al.

Randomised controlled trial

Musculoskeletal physiotherapists working within the Community Trust North Staffordshire, UK

IG 17 (16)

CG 13 (11)

18–29

IG = 1 CG = 0

30–49

IG = 8 CG = 10

≥50

IG = 8

CG = 3

Six month

Physiotherapists of all grades

Average time since qualification:

IG 25 years

CG 23 years

Levin et al.

Randomised controlled trial

Home care setting/community health setting; New York (3 regions: Queens, Bronx, Manhattan), USA

IG 22

CG 24

Not reported

13 months

Nurse managers and visiting staff nurses

Diploma IG (n = 0)/CG (n = 1)

Associate degree IG (n = 4)/CG (n = 4)

Bachelor's degree IG (n = 10)/CG (n = 10)

Master's degree

IG (n = 7)/CG (n = 5)

Not reported

IG (n = 1)/CG (n = 4)

Dizon et al.

Randomised controlled trial

Training centre at the University of Santo Tomas, Manila, Philippines

IG 27

FU 1 (post intervention) 27

FU 2 (3 month post intervention) 15

CG 27

FU 1 (post intervention) 25

FU 2 (3 month post intervention) 11

IG (median, IQR)

29 (26–36)

CG (median, IQR)

28 (25–30)

3 month

Physiotherapists

Years in practice

IG (median, IQR)

4.2 (2–7.75)

CG (median, IQR)

3.0 (1.13-4)
Discussion
The results of this systematic review on the effectiveness of EbM training show some impact on the knowledge and skills of healthcare professionals. However, the improvement in knowledge and skills was often rather small. Three trials demonstrated significant higher scores on EbM implementation scales and one trial reported improved EbM implementation behaviours measured by activity diaries. However, improvement of EbM implementation was self-perceived; hence, the impact on the practical application of EbM remains unknown.
Adequate knowledge and skills are indispensable for successful implementation of EbM but are not the only prerequisite. Negative attitudes, low management priority and no willingness to change current practice models are well-described barriers of EbM implementation [37].
Conflicting results were seen regarding the impact of EbM training on attitudes towards EbM. While some trials reported improvement, other trials did not. One trial even reported a decrease in positive attitude from pre- to post-intervention in the EbM training group. The trial by Lizarondo et al. [33] demonstrates inconsistent outcomes across different disciplines of healthcare professionals following EbM training. Some disciplines showed statistically significant improvements in all outcomes; others did not. It is unclear whether the training programs evaluated in this review will be comparably effective across all branches of healthcare professionals. Current systematic reviews also conclude that teaching interventions may positively influence EbM-related knowledge, skills and attitudes in healthcare professionals [17, 38].
These reviews did not make any attempt to take the nature of complex interventions into account, neither did they refer even to suggested models like the UK MRC framework.
EbM training for healthcare professionals as complex interventions comprise different elements that act interdependently, e.g. train-the-trainer modules, number of sessions, curriculum, corresponding media and materials. There are also different contextual factors, such as setting and didactic strategies, as well as the educational and professional background of the participants that may influence the intervention effects.
The majority of the trials offered exclusively classroom-based EbM training, while some trials included co-intervention in addition to classroom teaching. There is much debate about what is the best type of educational activity to achieve a substantial increase in putting EbM into practice [39]. Empirical evidence exists in favour of clinically integrated EbM training over classroom-based teaching in relation to changing behaviour [8, 16, 40] which might be an indicator for successful implementation.
The process of developing a complex intervention has several phases. Not all research will need to begin at the beginning and work stepwise through an entire framework for example provided by the MRC. Sometimes evidence already exists; sometimes steps are more or less important [18]. However, complete reporting on the development and piloting of all components is most important in order to interpret the outcomes of a complex intervention. The trials included in our review provided insufficient reports on the development and implementation of the EbM training. Piloting was rarely reported by the randomised controlled trials. However, avoiding proper piloting might lead to non-effective interventions since no attempt was made to understand and reduce procedural, clinical, and methodological uncertainties in advance of the implementation of the intervention within the main trial. There was also insufficient information provided about participants' preferences, interests and experiences. This might result in low acceptability of the intervention. Unfortunately, almost no information was provided about process evaluation and the costs or resources required. Thus, no insight was given into why an EbM training might have unexpected outcomes, why a successful training worked or how it might be optimized. Information about costs and resources is important for decision-makers.
Our review has several strengths. In order to increase the validity of the results only trials using validated assessment instruments have been included. Our review is the first taking the complexity of the included interventions into account. Therefore, we applied a specific criteria list on the quality of reporting of complex interventions [23]. Reporting a complex intervention trial according to the requirements of CReDECI might improve transparency and understanding of the intervention and might also have an impact on the value of future systematic reviews dealing with complex interventions
A full description of the EbM training and an understanding of its elements are crucial for the reproduction of the intervention's evaluation, the adaption of EbM training to different settings, and for long-term implementation [41, 42].
Our review has some limitations. Of the seven contacted authors, only two replied to our request. Since we considered only English or German language publications for inclusion, a language bias could not be ruled out.
Conclusions
There is insufficient evidence that available EbM trainings for healthcare professionals are likely to result in a meaningful change in EbM behaviour. Future trials should not focus only on participants' knowledge, attitudes and skills. EbM training is also supposed to foster healthcare professionals' use of EbM. Relevant outcomes should be used to assess the effectiveness of EbM training and to investigate whether such courses lead to changes in care processes or patient-relevant outcomes.
In this review, conclusions about effective training elements cannot be made due to the poor reporting quality of the included trials. In order to generate formats suitable for long-term implementation, future EbM training should be carefully developed, theory-based, piloted and finally investigated in a robust, randomised controlled trial.
Abbreviations
EbM:

Evidence-based medicine
MRC:

Medical Research Council
RCTs:

Randomised controlled trials
CCTs:

Controlled clinical trials
MeSH:

Medical Subject Headings
CONSORT:

Consolidated Standards of Reporting Trials
CReDECI:

Criteria for Reporting the Development and Evaluation of Complex Interventions in healthcare
EbP:

Evidence-based practice
Declarations
Open AccessThis article is distributed under the terms of the Creative Commons Attribution 4.0 International License (http://creativecommons.org/licenses/by/4.0/), which permits unrestricted use, distribution, and reproduction in any medium, provided you give appropriate credit to the original author(s) and the source, provide a link to the Creative Commons license, and indicate if changes were made. The Creative Commons Public Domain Dedication waiver (http://creativecommons.org/publicdomain/zero/1.0/) applies to the data made available in this article, unless otherwise stated.
Authors' Affiliations
(1)
University of Witten/Herdecke, Faculty of Health, School of Nursing Science, Witten/Herdeke, Germany
(2)
RED Institute for Medical Research and Education, Oldenburg, Germany
(3)
University of Hamburg, Faculty of Mathematics, Informatics and Natural Sciences, Unit of Health Sciences and Education, Hamburg, Germany
(4)
Martin Luther University Halle-Wittenberg, Medical Faculty, Institute for Health and Nursing Science, Halle, Germany
References
The German Institute for Quality and Efficiency in Health Care (IQWiG). https://www.iqwig.de/download/IQWiG_Methoden_Version_4-2.pdf. Accessed 03 May 2015.
The National Institute for Clinical Excellence (NICE). http://www.nice.org.uk/aboutnice/howwework/how_we_work.jsp. Accessed 03 May 2015.
Mühlhauser I, Kasper J, Meyer G, Federation of European Nurses in Diabetes. Understanding of diabetes prevention studies: questionnaire survey of professionals in diabetes care. Diabetologia. 2006;49:1742–6.View ArticleGoogle Scholar
Mühlhauser I. Diabetes experts' reasoning about diabetes prevention studies: a questionnaire survey. BMC Res Notes. 2008;1:90.View ArticleGoogle Scholar
Greenhalgh T. Is my practice evidence-based? BMJ. 1996;313:957–8.View ArticleGoogle Scholar
Zwolsman SE, Van Dijk N, Te Pas E, De Waard MW. Barriers to the use of evidence-based medicine:knowledge and skills, attitude, and external factors. Perspect Med Educ. 2013;2:4–13.View ArticleGoogle Scholar
Graue M, Bjarkøy R, Iversen MM, Haugstvedt A, Harris J. Integrating evidence-based practice into the diabetes nurse curriculum in Bergen Perceived barriers to finding, reading and using research in practice. Eur Diabetes Nursing. 2010;7(1):10–5.View ArticleGoogle Scholar
Khan KS, Coomarasamy A. A hierarchy of effective teaching and learning to acquire competence in evidenced-based medicine. BMC Med Educ. 2006;6:59.View ArticleGoogle Scholar
Shaneyfelt T, Baum KD, Bell D, Feldstein D, Houstin TK, Kaatz S, Whelan C, et al. Instruments for evaluating education in evidence-based practice. A systematic review. JAMA. 2006;1116:27.Google Scholar
Flores-Mateo G, Argimon JM. Evidence based practice in postgraduate healthcare education: A Systematic review. BMC Health Serv Res. 2007;7:119.View ArticleGoogle Scholar
Meyer G, Köpke S, Lenz M, Kasper J, Mühlhauser I. Evidence-based medicine for diabetes educators: a pilot study. Diabet Med. 2007;24:901–5.View ArticleGoogle Scholar
Walczak J, Kaleta A, Gabryś E, Kloc K, Thangaratinam S, Barnfield G, et al. How are "teaching the teachers" courses in evidence based medicine evaluated? A systematic review. BMC Med Educ. 2010;10:64.View ArticleGoogle Scholar
Cochrane Consumer Network. Cochrane consumer learning. http://consumers.cochrane.org/cochrane-consumer-learning (2012) Accessed 22 Apr 2015
Berger B, Steckelberg A, Meyer G, Kasper J, Mühlhauser I. Training of patient and consumer representatives in the basic competencies of evidence-based medicine: a feasibility study. BMC Med Educ. 2010;10:16.View ArticleGoogle Scholar
Green ML. Evidence-based medicine training in graduate medical education: past, present and future. J Eval Clin Pract. 2000;6:121–38.View ArticleGoogle Scholar
Coomarasamy A, Khan KS. What is the evidence that postgraduate teaching in evidence based medicine changes anything? A systematic review. BMJ. 2004;329:1017.View ArticleGoogle Scholar
Horsley T, Hyde C, Santesso N, Parkes J, Milne R, Stewart R. Teaching critical appraisal skills in healthcare settings. Cochrane Database Syst Rev. 2011;11:CD001270.Google Scholar
Craig P, Dieppe P, Macintyre S, Michie S, Nazareth I, Petticrew M. Developing and evaluating complex interventions: new guidance: UK Medical Research Council. 2008. http://www.mrc.ac.uk/complexinterventionsguidance Accessed 20 Apr 2015.
Mühlhauser I, Lenz M, Meyer G. Development, appraisal and synthesis of complex interventions – a methodological challenge. Z Evid Fortb Qual Gesundh wesen. 2011;105:751–61.View ArticleGoogle Scholar
Lenz M, Steckelberg A, Richter B, Mühlhauser I. Meta-analysis does not allow appraisal of complex interventions in diabetes and hypertension self-management. A methodological review. Diabetologia. 2007;50:1375–83.View ArticleGoogle Scholar
Lenz M, Steckelberg A, Mühlhauser I. Patient education programmes and decision aids - evaluation of complex interventions. Av Diabetol. 2008;24(6):443–52.Google Scholar
Higgins PT, Green S. Cochrane Handbook for Systematic Reviews of Interventions, version 5.1.0. 2011. http://handbook.cochrane.org/Accessed 01 Sep 2014.
Möhler R, Köpke S, Meyer G. Criteria for Reporting the Development and Evaluation of Complex Interventions in healthcare: revised guideline (CReDECI 2). Trials. 2015;16:204.View ArticleGoogle Scholar
Schulz KF, Altman DG, Moher D, CONSORT Group. CONSORT 2010 statement: updated guidelines for reporting parallel group randomised trials. BMJ. 2010;340:c332.View ArticleGoogle Scholar
Jalali-Nia SF, Salsali M, Dehghan-Nayeri N, Ebadi A. Effect of evidence-based education on Iranian nursing students' knowledge and attitude. Nurs Health Scie. 2011;12:221–7.View ArticleGoogle Scholar
Stevenson K, Lewis M, Hay E. Do physiotherapists' attitudes towards evidence-based practice change as a result of an evidence-based educational programme? J Eval Clin Pract. 2004;10(2):207–17.View ArticleGoogle Scholar
Levin RF, Fineout-Overholt E, Melnyk BM, Barnes M, Vetter MJ. Fostering evidence-based practice to improve nurse and cost outcomes in a community health setting. Nurs Admin Q. 2011;35(1):21–33.View ArticleGoogle Scholar
Dizon JM, Grimmer-Sommers K, Kumar S. Effectiveness of the tailored Evidence Based Practice training program for Filipino physical therapists: a randomized controlled trial. BMC Med Educ. 2014;14:147.View ArticleGoogle Scholar
Chen FC, Lin MC. Effects of a nursing literature reading course on promoting critical thinking in two-year nursing program students. J Nurs Res. 2003;11(2):137–46.View ArticleGoogle Scholar
Courey T, Benson-Soros J, Deemer K, Zeller RA. Information literacy and evidence-based practice as a new challenge for nurse educators. Nurs Educ Perspect. 2006;27(6):320–3.Google Scholar
Bennett S, Hoffmann T, Arkins M. A multi‐professional evidence‐based practice course improved allied health students' confidence and knowledge. J Eval Clin Pract. 2011;17(4):635–9.View ArticleGoogle Scholar
Kim SC, Brown CE, Ecoff L, Davidson JE, Gallo AM, Klimpel K, Wickline MA. Regional evidence-based practice fellowship-program: Impact on evidence-based practice implementation and barriers. Clin Nurs Res. 2013;22(1):51–69.View ArticleGoogle Scholar
Lizarondo LM, Grimmer-Somers K, Kumar S, Crockett A. Does journal club membership improve research evidence uptake in different allied health disciplines: a pre-post study. BMC Res Notes. 2012;5:588.View ArticleGoogle Scholar
McCluskey A, Lovarini M. Providing education on evidence-based practice improved knowledge but did not change behaviour: a before and after study. BMC Med Educ. 2005;5:40.View ArticleGoogle Scholar
Varnell G, Haas B, Duke G, Hudson K. Effect of an educational intervention on attitudes toward and implementation of evidence-based practice. Worldviews Evid-Based Nurs. 2008;5(4):172–81.View ArticleGoogle Scholar
Yost J, Ciliska D, Dobbins M. Evaluating the impact of an intensive education workshop on evidence-informed decision making knowledge, skills, and behaviours: a mixed methods study. BMC Med Educ. 2014;14:13.View ArticleGoogle Scholar
Sadeghi‐Bazargani H, Tabrizi JS, Azami‐Aghdash S. Barriers to evidence‐based medicine: a systematic review. J Eval Clin Pract. 2014;20(6):793–802.View ArticleGoogle Scholar
Dizon JMR, Grimmer‐Somers KA, Kumar S. Current evidence on evidence‐based practice training in allied health: a systematic review of the literature. Int J Evid‐Based Healthc. 2010;10(4):347–60.View ArticleGoogle Scholar
Dizon JMR, Grimmer-Somers KA. Complex interventions required to comprehensively educate allied health practitioners on evidence-based practice. Adv Med Educ Pract. 2011;2:105–8.View ArticleGoogle Scholar
Thomson O'Brien MA, Freemantle N, Oxman AD, Wolf F, Davis DA, Herrin J. Continuing education meetings and workshops: effects on professional practice and health care outcomes. Cochrane Database Syst Rev. 2001;2:CD003030.Google Scholar
Armstrong R, Waters E, Moore L, Riggs E, Cuervo LG, Lumbiganon P, Hawe P. Improving the reporting of public health intervention research: advancing TREND and CONSORT. J Public Health. 2008;30(1):103–39.View ArticleGoogle Scholar
Shepperd S, Lewin S, Straus S, Clarke M, Eccles MP, Fitzpatrick R, Wong G, Sheikh A. Can we systematically review studies that evaluate complex interventions? PLoS Med. 2009;6:e1000086.View ArticleGoogle Scholar

References of excluded studies