Research article

Open Access

Open Peer Review
This article has Open Peer Review reports available.
Challenging students to formulate written questions: a randomized controlled trial to assess learning effects
BMC Medical Education
2015
15:56
Received: 9 October 2014
Accepted: 6 March 2015
Published: 21 March 2015
Abstract
Background
Underutilization of dialogue among students during small-group work is a threat to active meaningful learning. To encourage small-group learning, we challenged students to generate written questions during a small-group work session. As gender differences have been shown to affect learning, these were also inventoried.
Methods
Prospective randomized study during a bachelor General Pathology course including 459 (bio) medical students, 315 females and 144 males. The intervention was to individually generate an extra written question on disease mechanisms, followed by a selection, by each student group, of the two questions considered to be most relevant. These selected questions were open for discussion during the subsequent interactive lecture. Outcome measure was the score on tumour pathology (range 1–10) on the course examination; the effect of gender was assessed.
Results
The mean score per student was 7.2 (intervention) and 6.9 (control; p = 0.22). Male students in the intervention group scored 0.5 point higher than controls (p = 0.05). In female students, this was only 0.1 point higher (p = 0.75).
Conclusions
Formulating and prioritizing an extra written question during small-group work seems to exert a positive learning effect on male students. This is an interesting approach to improve learning in male students, as they generally tend to perform less well than their female colleagues.
Keywords
Small-group teaching and learning
Written questions
Small-group dialogue
Student performance
Gender differences
Background
Active meaningful learning is supposed to play a central role in medical education, especially during small-group work (SGW) sessions and interactive lectures. This type of learning is driven by continuing dialogue among students, and between students and tutors, creating a constructive educational environment that enhances conceptual understanding based on the constructivist theory of learning [1]. During group discussions, students learn effectively, and knowledge is retained longer when they are able to engage in active learning [2,3]. The quality of such small-group dialogue is crucial to the progress of a student with respect to all aspects of learning, i.e. knowledge, metacognitive skills and attitude [4]. As student-centered learning is moving towards participatory education [5,6], endowing students with the role of co-creator of their education, it is a pre-requisite that students' input in the small-group dialogue increases. In earlier studies, students have indicated that group interaction and active student participation as well as the opportunity to ask questions are essential components of effective SGW [7]. However, based on our experience and that of others [8-11], it is apparent that underutilization of this dialogue during SGW occurs during our medical and biomedical science educational programmes, both quantitatively and qualitatively. This underutilization seems to be due to time pressure, lack of motivation and poor preparation. As these are regarded to hamper active meaningful learning, strategies that could improve the small-group dialogue are considered.
Students' ability to generate and formulate written questions is a key skill required for effective small-group learning [12]. Raising written questions has four important educational aspects: (1) it is a measure of curiosity which is a natural driver of learning [13]; (2) it stimulates active participation in the learning and instructional process [14,15]; (3) it stimulates critical thinking and thereby academic performance [16]; and (4) it is informative about a student's progress, and an obvious source of feedback by the tutor. By generating and formulating written questions, students are stimulated to reflect on their learning progress and start to develop metacognitive capacity [17], an important competency for medical doctors and biomedical professionals. Therefore, it is interesting to explore whether challenging students to generate written questions and prioritize them during a SGW session of an ongoing (bio) medical course would be effective as a strategy to improve learning performance. Students were invited to formulate their questions in writing, instead of only verbalizing them, in order to increase stringency. The rationale for asking students to prioritize the questions is twofold: to stimulate students to verbalize why they think their question is important; and, subsequently, to elicit group discussion by feeding the dialogue among students. Group discussion of questions could stimulate students to elaborate on their learning [18]. As the motivation of female (bio) medical students for learning may be of a different nature (intrinsic versus extrinsic) than that of their male peers [19], gender differences in the effect of the intervention might be present as well. Extrinsic motivation (e.g. summative tests, status, expected income) is more prominent among male students. Females generally have higher intrinsic motivation, implicating that they are genuinely interested and curious to learn more about the topic.
Based on these considerations, this study was executed to determine: (1) if an intervention directed at formulating and discussing an extra written question by the students during SGW would have a positive learning effect, i.e. an effect on the formal examination score; and (2) if gender influences the effect of this intervention. This was done by means of a prospective randomized study.
Methods
Participants and setting
The study was conducted with (bio) medical students at the Radboud University Medical Centre, Nijmegen, the Netherlands. Participants were 315 female and 144 male students who were undertaking a second-year Bachelor course on General Pathology. The study discipline ratio of Medicine to Biomedical Sciences of the participants was 3:1. A learner outcome-oriented curriculum consisting of consecutive courses was provided in which each course lasted four weeks. The successive topics of the course on General Pathology were: (1) principles of diagnosis and cellular damage; (2) inflammation and repair; (3) circulatory disorders; and (4) tumour pathology (pathogenesis and progression). Each topic had a consistent sequence of educational activities: lecture; task-driven directed self-study in preparation for the subsequent small group work; small group work (obligatory); practical course (obligatory); interactive lecture; and non-directed self-study. The study was executed during the SGW session on the topic of tumour pathology (2 hours) during the fourth week. These sessions involved groups of 12–15 students. On the final day of the course, the students were subjected to a formal examination on all four topics.
Intervention and procedure
At the start of the SGW, the tutor invited the students to formulate an extra written question related to the topic of tumour pathology. It was stressed that this should be a deepening question on disease mechanisms and not mere factual knowledge. The students were instructed to think about the extra question during the SGW. At the end of the SGW, the students individually wrote down at least one of their questions, and immediately afterwards the two most relevant questions per SGW were selected after a short plenary discussion. The intervention (writing the question followed by the plenary discussion) lasted for a maximum of 10 minutes. Participation was on a voluntary basis and written informed consent was obtained. The students were invited, on a voluntary basis, to discuss the selected questions during the subsequent interactive lecture that was held the next day. Whether or not the students actually did raise the questions during the interactive lecture was not controlled for. In the control groups, the usual task-driven discussions on tumour pathology lasted until the end of the SGW session. The total exposure time to the topic was similar in the intervention and control groups (see Figure
1
).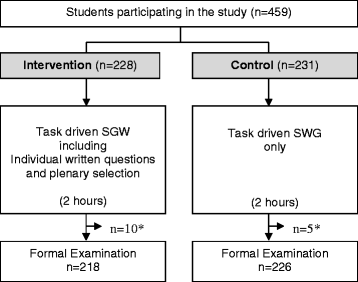 Randomization
The participants were randomly assigned to one of two arms with equal numbers of SGW groups. Allocation of intervention occurred at the SGW group level. Gender rates were calculated for each group. A minimization procedure according to Pocock and Simon [20] and Borm et al. [21] was used to obtain optimal balance on the factors gender, study discipline and tutor, as they may influence learning behaviour and learning efficacy [19].
Outcome measure
Outcome measure was the subscore on the course examination multiple-choice questions on tumour pathology (14 questions). This outcome measure was presented on a scale from 1 to a maximum of 10 points. The independent variables were intervention, gender and interaction between these variables to account for the gender-specific effects of the intervention.
Statistical analysis
Linear mixed models were used in order to account for the dependence caused by clustering of the students into small groups. A small-group-dependent random intercept was estimated to correct for differences between the small groups that would cause correlated residuals without this procedure. A restricted maximum likelihood estimation procedure was used, and since both the number of small groups and the number of students within a small group was substantial, we used a Satterthwaite correction for the degrees of freedom. The small group was used as a random factor. Analysis was performed according to the intention-to-treat principle. After the primary analysis, a subgroup analysis was performed according to gender. Effect sizes were calculated according to Cohen's d [22].
Ethical considerations
Formal written permission to execute the study was obtained from the course coordinator. As this study was not subjected to a formal ethical approval process for medical education research, information about the treatment of the students is provided. This concerns the possible risks for the students, the equitability of the selection, the guarantee of privacy and confidentiality, the procedure on informed consent, and the possible safeguards to protect vulnerable populations [23,24]. In our opinion, participation in the study bore no possible risk to the students. Participation was on a voluntary basis. The students were adequately informed of the purpose of the study and their written consent was obtained. Assignment of the students to the intervention or control arm was random. The privacy of the students was guarded by the study coordinator. For the study, the examination scores were linked to a student number and the identity of the students was not disclosed. We were not aware of any vulnerable students among the participants who would have required safeguards. When developing the current study, the ethical principles of the World Medical Association Declaration of Helsinki were taken into account [25].
Results
Participation rate
The participation rate was 100%. Students who participated in the SGW, but did not take the formal examination, were excluded (n = 15). A total of 444 students were included in the analysis (Figure 1). There was no significant difference in the number of dropouts between the study arms.
The effect of written questions on the formal examination score
The mean subscore on the topic tumour pathology in the formal examination per student was 7.2 (SD 1.2) in the intervention group and 6.9 (SD 1.3) in the control group (p = 0.22).
Gender effect on formal examination score
Female students' subscore on tumour pathology in the control group was significantly higher compared with male students: 7.1 versus 6.6 (p = 0.016). In the intervention group, the difference between female and male students was much smaller: 7.2 versus 7.1 (p = 0.55).
Gender differences in the learning effect of the intervention of written questions
Male students in the intervention group had a 0.5 higher subscore than male students in the control group (p = 0.05); effect size was 0.35 (Table
1
). In female students, the difference between the intervention and control groups was only 0.1 (p = 0.75).
Table 1
Outcome measures (scale 1–10) including standard deviations and effect sizes
Score on tumor pathology (SD)

Study arm

Males

Females

Intervention

7.1 (1.33)

7.2 (1.15)

Control

6.6 (1.38)

7.1 (1.24)

Effect size

0.35

0.04
Discussion
The present randomized controlled study reveals that generation of written questions by individual (bio) medical students, followed by plenary selection of the two most relevant questions during a SGW session, seems to exert a positive learning effect on male students. The students were encouraged to formulate additional written questions on disease mechanisms. Furthermore, they were involved in a discussion to select the most relevant questions. To do this, students needed to have the ability to focus on the relevant items of the topic and express these orally to their fellow students. To our surprise, female students' scores did not improve on this intervention. A possible explanation is a ceiling effect, as female students already performed better in comparison with their male colleagues. Another explanation could be that males were more triggered to perform better in a competitive environment of oral combat to select the best questions. Additional aspects regarding gender differences in learning will be discussed later.
Conclusions
Formulating and prioritizing an extra written question during small-group work seems to exert a positive learning effect on male students. Asking students to generate written questions seems an interesting approach because it: (1) stimulates active participation and combating in debate; and (2) may stimulate student–tutor interaction. This is an interesting strategy to improve student learning as it fits well within the concept of participatory education in which students are responsible for their own learning, to a larger extent.
Declarations
Acknowledgements
We would like to thank Dr Eric Steenbergen, pathologist, course coordinator General Pathology, Department of Pathology, Radboud University Nijmegen Medical Centre, the Netherlands for facilitating the current study. Furthermore, we would like to express our gratitude to the tutors of the small-group work sessions for participating in the study.
Funding
This study was funded by the Radboud University Nijmegen Medical Centre.
Authors' Affiliations
(1)
Department of Anatomy, Radboud University Nijmegen Medical Centre, Nijmegen, The Netherlands
(2)
Department of Internal Medicine, Radboud University Nijmegen Medical Centre, Nijmegen, The Netherlands
(3)
Department for Health Evidence, Radboud University Nijmegen Medical Centre, Nijmegen, The Netherlands
(4)
Department of Pathology, Radboud University Nijmegen Medical Centre, Nijmegen, The Netherlands
Copyright
© Olde Bekkink et al.; licensee BioMed Central. 2015
This article is published under license to BioMed Central Ltd. This is an Open Access article distributed under the terms of the Creative Commons Attribution License (http://creativecommons.org/licenses/by/4.0), which permits unrestricted use, distribution, and reproduction in any medium, provided the original work is properly credited. The Creative Commons Public Domain Dedication waiver (http://creativecommons.org/publicdomain/zero/1.0/) applies to the data made available in this article, unless otherwise stated.