Debate
Open Access
Open Peer Review
This article has Open Peer Review reports available.
Incorporating one health into medical education
BMC Medical Education
BMC series – open, inclusive and trusted
2017
17:45
Received: 9 August 2016
Accepted: 8 February 2017
Published: 23 February 2017
Abstract
One Health is an emerging concept that stresses the linkages between human, animal, and environmental health, as well as the need for interdisciplinary communication and collaboration to address health issues including emerging zoonotic diseases, climate change impacts, and the human-animal bond. It promotes complex problem solving using a systems framework that considers interactions between humans, animals, and their shared environment. While many medical educators may not yet be familiar with the concept, the One Health approach has been endorsed by a number of major medical and public health organizations and is beginning to be implemented in a number of medical schools. In the research setting, One Health opens up new avenues to understand, detect, and prevent emerging infectious diseases, and also to conduct translational studies across species. In the clinical setting, One Health provides practical ways to incorporate environmental and animal contact considerations into patient care. This paper reviews clinical and research aspects of the One Health approach through an illustrative case updating the biopsychosocial model and proposes a basic set of One Health competencies for training and education of human health care providers.
Keywords
One HealthMedical educationZoonosesHuman-animal bondInterdisciplinary educationEnvironmental health
Background
The conceptual model under which physicians train affects the way they approach patient care. Changing patterns in diseases on a global scale suggest a need for new conceptual models for medical education. Rapid global population growth and mobility, agricultural intensification, and the effects of accelerating climate change are impacting biodiversity and ecosystems challenging planetary boundaries for sustainability and creating new environmental health threats at the community and individual level [1]. Emerging infectious diseases in recent decades, driven in large part by such environmental developments, are mostly zoonotic (transmitted between animals and humans) in origin. Zoonotic disease outbreaks and pandemics including Severe Acute Respiratory Syndrome (SARS), avian influenza, pandemic 2009 H1N1 influenza, West Nile virus, Middle East Respiratory Syndrome (MERS), and Ebola, are occurring with increasing frequency and threaten global health security and economic stability [2, 3]. There is increasing evidence for the changing relationship with our environment leading to many chronic and emerging challenges such as malnutrition associated with food systems leading to both under- and over nutrition, and diseases relating to declining quality of the environment in particular the air, water, soils and access to space and nature. Antibiotic resistant bacteria are emerging in both humans and animals related to widespread use of antibiotics across species including in animal agriculture [4]. At the same time, studies of physicians reveal limited awareness of the environmental health aspects of medical problems in the patient care setting [5], as well as low levels of awareness about prevention or treatment of zoonotic diseases [6]. Therefore, there have been calls for training health professionals in "systems thinking" to better prepare them to face these emerging disease issues [7].
A precedent for teaching systems approaches in medical education can be found in the development of Engel's biopsychosocial model. In 1980, Engel presented a case of a patient with chest pain to demonstrate how a reductionist "biomedical" model (that breaks down biological processes into discrete pathways and considers each separately [
8
] could miss important elements of the social and psychological aspects of care. The "biopsychosocial" model for medical care that he proposed as an alternative approach to a clinical situation was a systems approach that considers the patient as part of a larger system with hierarchical levels of increasing complexity, from the molecular to the cellular to the organ, individual, community, and society (Fig.
1
) [
9
,
10
]. The concepts of patient-centered care and consideration of social determinants of health can be seen as the most recent efforts to incorporate biopsychosocial approaches into the patient-provider encounter [
11
,
12
]. It now seems timely to adapt and update the biopsychosocial model into a "One Health" framework that applies the same type of systems thinking to disease challenges in a rapidly changing global environment.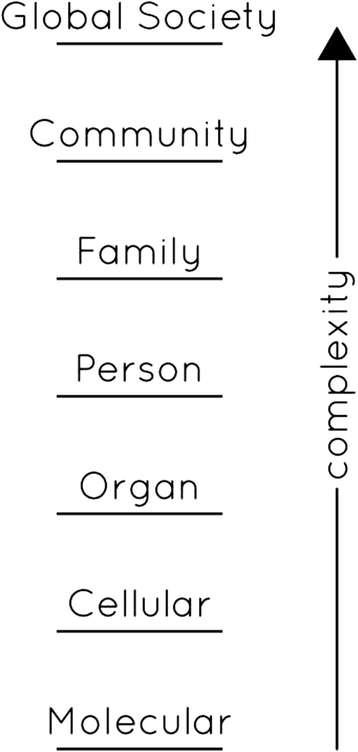 Conclusion
The One Health approach provides a model for educating medical students and trainees in systems approaches relevant to a range of clinical settings. It also extends traditional concepts of inter-professional education to incorporate animal health and ecosystem aspects of care. Introducing One Health into medical curricula will not be easy but can start with enhanced instruction regarding zoonotic infectious diseases, adding questions about animal contact to the teaching of medical history taking, and creating clinical electives for students to directly experience One Health concepts. Through such innovative approaches, medical students and trainees could acquire clinical One Health competencies enabling them to provide improved patient care and promote healthy environments benefiting all species.
Declarations
Acknowledgements
The authors thank Joshua Steele for assistance with preparation of figures and Gemina Garland-Lewis for assistance in preparation of the manuscript.
Funding
There is no funding to report for this study.
Availability of data and materials
No data were used to generate this manuscript.
Authors' contributions
PMR and MP conceived the paper and BN, LK, RK made substantial contributions to the design. PMR drafted the work and MP, LK, BN, and RK made critical revisions. PMR, MP, BN, LK, and RK gave final approval of the version to be published. PMR, MP, BN, LK, and RK agree to be accountable for all aspects of the work.
Competing interests
The authors declare that they have no competing interests.
Consent for publication
Not applicable.
Ethics approval and consent to participate
Not applicable.
Open AccessThis article is distributed under the terms of the Creative Commons Attribution 4.0 International License (http://creativecommons.org/licenses/by/4.0/), which permits unrestricted use, distribution, and reproduction in any medium, provided you give appropriate credit to the original author(s) and the source, provide a link to the Creative Commons license, and indicate if changes were made. The Creative Commons Public Domain Dedication waiver (http://creativecommons.org/publicdomain/zero/1.0/) applies to the data made available in this article, unless otherwise stated.
Authors' Affiliations
(1)
Departments of Environmental and Occupational Health Sciences, Global Health, Family Medicine, University of Washington Center for One Health Research, Seattle, USA
(2)
Division of Cardiology, David Geffen School of Medicine, University of California, Los Angeles, USA
(3)
Program on Science and Global Security, Woodrow Wilson School of Public and International Affairs, Princeton University, Princeton, USA
(4)
Department of Pathology and Pathogen Biology, Royal Veterinary College, University of London, London, UK
(5)
Centers for Disease Control and Prevention Liaison to the Food and Drug Administration for Food Safety, Washington, USA