Study protocol

Open Access

Open Peer Review
This article has Open Peer Review reports available.
Beyond silence: protocol for a randomized parallel-group trial comparing two approaches to workplace mental health education for healthcare employees
BMC Medical Education
2015
15:78
Received: 19 February 2015
Accepted: 8 April 2015
Published: 16 April 2015
Abstract
Background
Mental illness is a significant and growing problem in Canadian healthcare organizations, leading to tremendous personal, social and financial costs for individuals, their colleagues, their employers and their patients. Early and appropriate intervention is needed, but unfortunately, few workers get the help that they need in a timely way due to barriers related to poor mental health literacy, stigma, and inadequate access to mental health services. Workplace education and training is one promising approach to early identification and support for workers who are struggling. Little is known, however, about what approach is most effective, particularly in the context of healthcare work. The purpose of this study is to compare the impact of a customized, contact-based education approach with standard mental health literacy training on the mental health knowledge, stigmatized beliefs and help-seeking/help-outreach behaviors of healthcare employees.
Methods/Design
A multi-centre, randomized, two-group parallel group trial design will be adopted. Two hundred healthcare employees will be randomly assigned to one of two educational interventions: Beyond Silence, a peer-led program customized to the healthcare workplace, and Mental Health First Aid, a standardized literacy based training program. Pre, post and 3-month follow-up surveys will track changes in knowledge (mental health literacy), attitudes towards mental illness, and help-seeking/help-outreach behavior. An intent-to-treat, repeated measures analysis will be conducted to compare changes in the two groups over time in terms of the primary outcome of behavior change. Linear regression modeling will be used to explore the extent to which knowledge, and attitudes predict behavior change. Qualitative interviews with participants and leaders will also be conducted to examine process and implementation of the programs.
Discussion
This is one of the first experimental studies to compare outcomes of standard mental health literacy training to an intervention with an added anti-stigma component (using best-practices of contact-based education). Study findings will inform recommendations for designing workplace mental health education to promote early intervention for employees with mental health issues in the context of healthcare work.
Trial registration
May 2014 - ClinicalTrials.gov: NCT02158871.
Keywords
Mental healthWorkplaceHealth promotionHealthcare
Background
Mental illness in the workplace costs the Canadian economy an estimated $21 billion a year in reduced labour force participation [1]. It is associated with more lost work days than any other chronic condition, and the cost of mental health leave is, on average, double the cost of a leave for a physical illness [2]. Mental illness at work is a particularly costly issue for healthcare organizations. Healthcare workers in Ontario report high levels of workplace stress, and have a higher risk of mental health problems than any other occupational group [3,4]. Healthcare workers are more likely to miss work due to illness or disability and tend to be absent for significantly more days than workers in other sectors [5]. In addition, a high proportion of healthcare workers continue to work despite mental health problems [6]. Working despite mental illness, or presenteeism, can be more costly than absenteeism. Presenteeism can lead to poor work quality, interpersonal conflicts, and on the job errors and accidents [7]. Concerns about patient safety and quality of patient care have prompted calls for action to address this growing problem in healthcare organizations [8].
Importance of early intervention for mental health issues
Despite the high prevalence and significant impact of mental health issues in healthcare work, the issues are often surrounded by secrecy and silence [9]. Many healthcare workers are reluctant to admit that they are ill, and do not seek help for their mental health problems when needed [6,10]. There is often a long lag time between the onset of symptoms and seeking treatment [11,12].
When a worker is struggling, managers and co-workers might not say or do anything because they do not recognize the signs of mental illness, they do not know how to respond, and/or they may judge the worker as "bad" rather than "ill" [13,14]. In healthcare, there can be a discourse of professional competence where it is not acceptable to admit the need for help [9,15]. Consequently, many workers do not get the help or support that they need and mental health issues can escalate to the point of crisis before they are addressed. Early intervention is critical to prevent the personal, social and financial costs of untreated mental health issues at work [16].
Early intervention, as defined in this study, is facilitated by knowledge, attitudes and behaviors that facilitate timely, effective and appropriate support for workers with emerging signs and symptoms of mental health problems or disorders [
17
]. Support may involve a range of options, from counseling and/or medication from a healthcare provider to connection with an Employee Assistance program or a self-help group. The conceptual model of early intervention guiding the project is outlined in Figure
1
. Earlier intervention can be accomplished by augmenting two key health access behaviors; a) workers seeking help when they are struggling with their own mental health issues, and b) workers facilitating appropriate outreach to colleagues who are struggling in order to facilitate their help seeking behavior. Appropriate help seeking and outreach behaviors are considered together because they are the two primary mechanisms by which a worker receives the help that he/she needs, and they share common pathways [
6
]. Further, actions taken to facilitate early identification and intervention are mediated through reduction of stigma, improved mental health literacy and better attitudes towards professional treatment. This can have a dual effect on both help seeking and appropriate outreach to colleagues. Although the primary outcome of interest in this study is help seeking and outreach behavior, it should be noted that early intervention leads to more appropriate utilization of mental health services and faster recovery from mental health issues. The overall impact of greater efficiency, reduced absenteeism and sick leave, and increased productivity at work should provide economic advantages to both the worker and the employer [
13
]. Evaluation of these long-term outcomes is beyond the scope of this project, but will be the focus of subsequent research.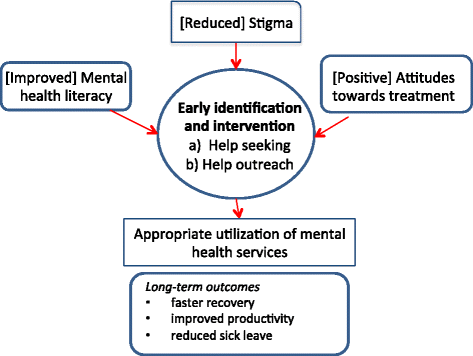 As outlined in the conceptual model, there are several key forces that may shape the nature and extent of early intervention for mental health problems. Mental health literacy, stigma, and beliefs about the value of seeking help are some of the key forces to consider [18]. Mental health literacy refers to the knowledge and skills required for recognition, management and/or prevention of mental disorders [19,20]. Literacy is a critical issue because many mental health problems are misunderstood or over-looked, therefore early identification is the first critical step in early intervention. Stigma, in the form of negative attitudes and stereotypical beliefs about mental illness is another key issue. Co-workers often judge workers with a mental illness and ostracize them rather than provide support [21]. These attitudes and beliefs contribute to fear of discrimination and are a substantial barrier to seeking help [22]. Another force that may shape behavior is one's belief about the role and effectiveness of psychological treatment. If there is little faith in the value of a treatment approach, then a worker may not choose to pursue the treatment, and likewise a colleague may not recommend it to a co-worker who is struggling [18].
It should be noted that the model depicts a linear relationship between the key variables, however these relationships can be quite complex, and not always predictable. For example, mental health literacy training may or may not affect stigmatized beliefs; a decrease in stigma may not affect behavior; and experience in seeking help may reinforce or change beliefs about the value of a particular approach [23].
Approaches to promote workplace mental health support
Many programs to promote early intervention for mental ill health at work are based on principles of mental health literacy training. Typically one or two sessions are scheduled to train stakeholders in the workplace about how to identify and respond to employees with mental health problems. Mental Health First Aid (MHFA) is one example of a well-established, standardized mental health literacy program that has been implemented and evaluated internationally in a variety of settings, including workplaces [24]. Outcomes of quasi-experimental and experimental studies of Mental Health First Aid training include improvement in recognition of mental disorders and their treatment, increased confidence in providing help for others, and increased helping behavior [25].
Although literacy initiatives show promise, they might not be sufficient in a healthcare environment. Many healthcare workers have reasonably high levels of mental health literacy. In fact, having a medical understanding of mental disorders appears to increase rather than decrease stigma and social distance, perhaps because the illness is perceived as fixed and chronic [26]. Stigma is reported to be quite high among healthcare workers [21]. Improvements in mental health literacy do not necessarily translate into reduced stigma or increased social inclusion [23]. In order to address the stigma associated with mental illness, contact-based education is recommended as a best practice approach [23]. Contact-based education (CBE) is a knowledge translation strategy that creates opportunities for positive interpersonal contact with someone who has personally experienced mental health issues [27]. Key ingredients for CBE include voluntary, positive, prolonged contact with a respected peer of equal status [28,29]. Positive interactions with a respected colleague who has personally experienced mental illness can disconfirm negative stereotypes, and the opportunities for active discussion can break down "us-them" barriers [28]. Evaluation studies of CBE with a range of student groups have reported positive outcomes, including a significant reduction in prejudice and social intolerance [27,30]. The impact on willingness to seek help, however, is not as clear [30].
Contact-based education led by a respected peer is a promising strategy to build literacy, promote positive attitudes, and reduce stigma, however, additional research is needed to systematically evaluate this approach and its impact on help-seeking/outreach behavior. A review of research on contact based education highlighted the potential of both retrospective and prospective contact, but also pointed to many methodological limitations in the literature and the need to examine the nature of contact [28]. There are no empirical evaluations of CBE in a workplace setting. One of the challenges is that CBE is more of a philosophy than a standardized approach to training. Many of the reports in the literature refer to single sessions involving personal story telling with a target audience, rather than the recommended principles of prolonged contact and active discussion [28]. This is a serious concern since definition and adherence to the active ingredients of intervention during its evaluation are fundamental to valid conclusions about its effectiveness. In this study, we propose to evaluate a workplace education program that integrates principles of CBE, including opportunities for ongoing active dialogue and discussion regarding the complex issues that shape the beliefs and behaviors of employees in healthcare organizations. According to principles of knowledge translation, a program is more likely to be effective if it is developed in partnership with stakeholders and tailored to the needs of the target audience [31]. In this study, we propose to evaluate a novel program called "Beyond Silence", which was created to build on best practice principles of CBE as well as adult learning theory and knowledge translation in a healthcare setting. The plan is to compare its effectiveness to standard MHFA training that does not incorporate a contact-based education approach.
Research questions
1.

Is customized, contact-based education more effective than standard mental health literacy training in increasing the help-seeking/outreach behaviors of workers in a healthcare setting?

2.

What mediates the impact of the contact-based intervention?

a.

What is the effect of mental health literacy?

b.

What is the effect of attitudes towards coworkers with mental health issues?

c.

What is the effect of attitudes towards seeking professional treatment?

3.

What process issues need to be considered in implementing mental health education in a healthcare workplace?
Methods/Design
A multi-centre, randomized, evaluator-blinded, two-group parallel design will be adopted, comparing the impact of the Beyond Silence (CBE) program with mental health literacy training. A parallel group design will be adopted where participants in both groups will receive 12 hours of group-based education, but the content, schedule and format will be different. The 1:1 randomization sequence will be generated off site (in Calgary) using the software Stata. Randomization will occur in four blocks of 26 and four blocks of 24, leading to n = 100 in each assignment group and exactly 12 or 13 participants in each assignment. The sequence will not be shared with the investigative team, who will instead determine each participant's assignment using an interactive web-based system. Mental Health First Aid training (MHFA) will serve as the control group since its efficacy is already well established in the literature [32]. The "Beyond Silence" approach is novel, and based on best practice principles, but research is needed to determine whether it is effective. Help seeking/outreach behavior, mental health literacy, and mental health stigma will be assessed at 3 month intervals: at baseline, after completion of the program and at 3 months follow-up. The study protocol was registered in May 2014 on ClinicalTrials.gov (ID#: NCT02158871). Ethical approval was also obtained through the Hamilton Integrated Research Ethics board.
Discussion
Overall, study findings will be used to analyze the relative value of the Beyond Silence program in promoting early intervention for healthcare workers who are struggling with mental health issues. Future research will explore larger scale implementation in other workplaces, and the longitudinal impact on organizational indicators of productivity.
It is hypothesized that healthcare workers have higher levels of mental health literacy than the general public, therefore contact-based education will be more effective than literacy training in addressing the complex forces that prevent individuals from seeking help for their own mental health problems, or provide help to others who are struggling. Most current studies track knowledge and attitude change, therefore the focus of this study on behavior change (help-seeking and help-outreach) and the forces that contribute to behavior change will add depth to our current understanding of the impact of employee educational intervention.
Declarations
Acknowledgements
The Ontario Mental Health Foundation provided funding for this project. Thanks to Lisa Gilmour, Director of Health Safety and Wellness at Hamilton Health Sciences (HHS), members of the HHS Advisory team, and members of the St. Joseph's Healthcare advisory team for their support in facilitating recruitment and data collection with hospital employees.
Authors' Affiliations
(1)
Institute for Applied Health Science, School of Rehabilitation Science, McMaster University, Hamilton, Canada
(2)
Cumming School of Medicine, Department of Community Health Sciences, University of Calgary, Calgary, Canada
(3)
Public Health Sciences, Abramsky Hall, 3rd Floor, Queen's University, Kingston, Canada
(4)
Department of Occupational Science and Occupational Therapy, University of Toronto, Toronto, Canada
(5)
School of Rehabilitation Science, McMaster University, Institute for Applied Health Science, Hamilton, Canada
References
Conference Board of Canada. Mental health issues in the labour force: Reducing the economic impact on Canada. 2012. http://www.conferenceboard.ca/e-library/abstract.aspx?DID=4957. Accessed Feb 2014.
Dewa CS, Chau N, Dermer S. Examining the comparative incidence and costs of physical and mental health-related disabilities in an employed population. J Occup Environ Med. 2010;52:758–62.View ArticleGoogle Scholar
Statistics Canada. 2005 national survey of the work and health of nurses (CIHI share file). Ottawa: Statistics Canada and Canadian Institute for Health Information; 2006.Google Scholar
Wieclaw J, Agerbo E, Mortensen PB, Bonde JP. Risk of affective and stress related disorders among employees in human service professions. Occup Environ Med. 2006;63:314–9.View ArticleGoogle Scholar
Canadian Institute for Health Information (CIHI). Canada's healthcare providers: 2005 Chartbook. Ottawa: Author; 2005.Google Scholar
Gärtner FR, Nieuwenhuijsen K, van Dijk FJ, Sluiter JK. The impact of common mental disorders on the work functioning of nurses and allied health professionals: a systematic review. Int J Nurs Stud. 2010;47:1047–61.View ArticleGoogle Scholar
Attridge M. A quiet crisis: the business case for managing employee mental health. Vancouver, BC: Wilson Banwell PROACT Human Solutions; 2008.Google Scholar
Silas L. From promise to practice: getting healthy work environments in health workplaces. Healthcare Papers. 2007;7:46–51.View ArticleGoogle Scholar
Moll S. Mental health issues and work: Institutional practices of silence in a mental healthcare organization. In: Doctoral thesis. Toronto: University of Toronto; 2010.Google Scholar
Crout LA, Chang E, Cioffi J. Why do registered nurses work when ill? J Nurs Adm. 2005;35:23–8.View ArticleGoogle Scholar
Kessler RC, Frank RG. The impact of psychiatric disorder on work loss days. Psychol Med. 1997;27:861–73.View ArticleGoogle Scholar
Lesage A, Dewa CS, Kirsh B. The momentum for research on mental health in the workplace in Canada. Can J Comm Mental Health. 2006;25:1–4.View ArticleGoogle Scholar
Bender A, Kennedy S. Mental health and mental illness in the workplace: diagnostic and treatment issues. Healthcare Papers. 2004;5:54–67.View ArticleGoogle Scholar
Krupa T, Kirsh B, Cockburn L, Gewurtz R. Understanding the stigma of mental illness in employment. Work. 2009;33:413–25.Google Scholar
Rosvold EO, Bjertness E. Physicians who do not take sick leave: hazardous heroes? Scand J Publ Health. 2001;29:71–5.View ArticleGoogle Scholar
Pomaki G, Franche R-L, Murray E, Khushrushahi N, Lampinen TM. Workplace-based work disability prevention interventions for workers with common mental health conditions: a review of the literature. J Occup Rehab. 2012;22:182–95.View ArticleGoogle Scholar
Commonwealth Department of Health and Aged Care. Promotion, Prevention and Early Intervention for Mental Health—A Monograph. Mental Health and Special Programs Branch, Commonwealth Department of Health and Aged Care, Canberra; 2000. http://findahealthservice.act.gov.au/c/fahs?a=dlpubpoldoc&document=823. Accessed Jan 2014.
Schomerus G, Matschinger H. Angermeyer MC attitudes that determine willingness to seek psychiatric help for depression: a representative population survey in applying the theory of planned behavior. Psychol Med. 2009;39:1855–65.View ArticleGoogle Scholar
Jorm AF, Korten AE, Jacomb PA, Christensen H, Rodgers B, Pollitt P. "Mental health literacy": a survey of the public's ability to recognize mental disorders and their beliefs about the effectiveness of treatment. Med J Aust. 1997;166:182–6.Google Scholar
Kelly CM, Jorm AF, Wright A. Improving mental health literacy as a strategy to facilitate early intervention for mental disorders. Med J Aust. 2007;187 Suppl 7:26–30.Google Scholar
Joyce T, Hazelton M, McMillan M. Nurses with mental illness: their workplace experiences. Int J Mental Health Nurs. 2007;16:373–80.View ArticleGoogle Scholar
Schomerus G, Angermeyer MC. Stigma and its impact on help-seeking for mental disorders: what do we know? Epidemiol Psichiatr Soc. 2008;17:31–7.View ArticleGoogle Scholar
Stuart H, Arboleda-Florez J, Sartorius N. Paradigms lost: fighting stigma and the lessons learned. New York: Oxford; 2012.View ArticleGoogle Scholar
Kitchener B, Jorm AF. Mental health first aid training in a workplace setting: a randomized controlled trial. BMC Psychiat. 2004;4:23.View ArticleGoogle Scholar
Kitchener B, Jorm AF. Mental health first aid training for the public: evaluation of effects on knowledge, attitudes and helping behavior. BMC Psychiat. 2002;2:10.View ArticleGoogle Scholar
Hugo M. Mental health professionals' attitudes towards people who have experienced a mental health disorder. J Psychiatr Ment Health Nurs. 2001;8:419–25.View ArticleGoogle Scholar
Corrigan PW, River L, Lundin RK, Penn DL, Uphoff-Wasowski K, Campion J. Three strategies for changing attributions about severe mental illness. Schizophr Bull. 2001;27(2):187–95.View ArticleGoogle Scholar
Couture SM, Penn DL. Interpersonal contact and the stigma of mental illness: a review of the literature. J Ment Health. 2003;12:291–305.View ArticleGoogle Scholar
Wallach HS. Changes in attitudes towards mental illness following exposure. Comm Ment Health J. 2004;40:235–48. doi:10.1023/B:COMH.0000026997.92083.4d.View ArticleGoogle Scholar
Stuart H, Koller M, Christie R, Pietrus M. Reducing mental health stigma: a case study. Healthcare Q. 2011;14(Supplement 2):40–9.View ArticleGoogle Scholar
Graham ID, Logan J, Harrison MB, Straus SE, Tetroe J, Caswell W, et al. Lost in knowledge translation: time for a map? J Cont Ed Health Prof. 2006;26:13–36.View ArticleGoogle Scholar
Kitchener B, Jorm AF. Mental health first aid training: review of evaluation studies. Aust N Z J Psychiat. 2006;40:6–8.View ArticleGoogle Scholar
Moll S. The web of silence: a qualitative case study of early intervention and support for healthcare workers with mental ill-health. BMC Public Health. 2014;14:138. 10.1186/1471-2458-14-138.View ArticleGoogle Scholar
Jorm AF, Kitchener BA, Fischer J-A, Cvetkovski S. Mental health first aid training by e-learning: a randomized controlled trial. Aust N Z J Psychiat. 2010;44:1072–81.View ArticleGoogle Scholar
Jorm AF, Kitchener BA, O'Kearney R, Dear KBG. Mental health first aid training of the public in a rural area: a cluster randomized trial. BMC Psychiat. 2004;4:33.View ArticleGoogle Scholar
Statistics Canada. The 2011/2012 Canadian Community Health Survey. 2012. http://www.statcan.gc.ca/daily-quotidien/131113/dq131113c-eng.htm. Accessed Aug 2013.
Elhai JD, Schweinle W, Anderson SM. Reliability and validity of the attitudes toward seeking professional psychological help scale-short form. Psychiatry Res. 2008;159:320–9.View ArticleGoogle Scholar
Kassam A, Papish A, Modgill G, Patten S. The development and psychometric properties of a new scale to measure mental illness related stigma by health care providers: the opening minds scale for health care providers (OMS-HC). BMC Psychiat. 2012;12:62. doi:10.1186/1471-244X-12-62.View ArticleGoogle Scholar
Schomerus G, Matschinger H, Angermeyer MC. Continuum beliefs and stigmatizing attitudes towards persons with schizophrenia, depression and alcohol dependence. Psychiatry Res. 2013;209:665–9. doi:10.1016/j.psychres.2013.02.006.View ArticleGoogle Scholar
Swami V. Mental health literacy of depression: gender differences and attitudinal antecedents in a representative British sample. PLoS One. 2012;7:e49779. doi:10.1371/journal.pone.0049779.View ArticleGoogle Scholar
Diggle PJ, Heagerty P, Liang K, Zeger SL. Analysis of Longitudinal Data. 2nd ed. Oxford, UK: Oxford University Press; 2002.Google Scholar
Baron RM, Kenny DA. The moderator-mediator variable distinction in social psychological research: conceptual, strategic and statistical considerations. J Pers Soc Psychol. 1986;51:1173–82.View ArticleGoogle Scholar
Thorne S, Kirkham S, O'Flynn Magee K. The analytic challenge in interpretive description. Int J Qual Methods. 2004;3:1–11.Google Scholar
Copyright
© Moll et al.; licensee BioMed Central. 2015
This article is published under license to BioMed Central Ltd. This is an Open Access article distributed under the terms of the Creative Commons Attribution License (http://creativecommons.org/licenses/by/4.0), which permits unrestricted use, distribution, and reproduction in any medium, provided the original work is properly credited. The Creative Commons Public Domain Dedication waiver (http://creativecommons.org/publicdomain/zero/1.0/) applies to the data made available in this article, unless otherwise stated.