Debate

Open Access

Open Peer Review
This article has Open Peer Review reports available.
Addressing disparities in academic medicine: what of the minority tax?
BMC Medical Education
2015
15:6
Received: 10 June 2014
Accepted: 9 January 2015
Published: 1 February 2015
Abstract
Background
The proportion of black, Latino, and Native American faculty in U.S. academic medical centers has remained almost unchanged over the last 20 years. Some authors credit the "minority tax"—the burden of extra responsibilities placed on minority faculty in the name of diversity. This tax is in reality very complex, and a major source of inequity in academic medicine.
Discussion
The "minority tax" is better described as an Underrepresented Minority in Medicine (URMM) faculty responsibility disparity. This disparity is evident in many areas: diversity efforts, racism, isolation, mentorship, clinical responsibilities, and promotion.
Summary
The authors examine the components of the URMM responsibility disparity and use information from the medical literature and from human resources to suggest practical steps that can be taken by academic leaders and policymakers to move toward establishing faculty equity and thus increase the numbers of black, Latino, and Native American faculty in academic medicine.
Keywords
Underrepresented minority
Black
Latino
Hispanic
Native american
Minority tax
Background
The proportion of black, Latino, and Native American faculty in U.S. academic medical centers increased slightly over the last 20 years (7% vs. 8%) [1] Multiple medical organizations, including the American Medical Association (AMA), the American Association of Medical Colleges (AAMC) and the National Medical Association (NMA) have been working to increase the representation of those in racial/ethnic groups that are underrepresented in medicine. Although progress has been made in increasing the numbers of medical students and faculty from URMM backgrounds, the proportions of URMM faculty and URMM students remain basically unchanged since the numbers of positions has increased. The unchanged proportion is far below the targets set by the AMA, the AAMC and the NMA.
Our review of the literature identified factors that affect minority faculty in academic medicine. These factors have been colloquially called the "minority tax" or "cultural tax". The minority tax has been defined as the tax of extra responsibilities placed on minority faculty in the name of efforts to achieve diversity [2,3]—but this unfair tax is, in reality, complex. For the purposes of this article, we will focus on those who are Underrepresented Minorities in Medicine (URMM), including blacks, Latinos, and Native Americans/Alaskans. Other minorities, particularly Asians, may not be underrepresented in medicine, but still suffer many, if not all, of the disparities addressed. Unlike taxes, (which are theoretically shared by all) the following responsibilities are not shared equally by all faculty, and disproportionately burden URMM faculty. The URMM faculty responsibility "tax" or disparity includes the following categories: responsibility for achieving diversity efforts, racism, isolation, mentorship, clinical, and promotion inequities.
Summary
The sum of these disparities presents a considerable barrier to success for URMM faculty, as illustrated in Figure
1
.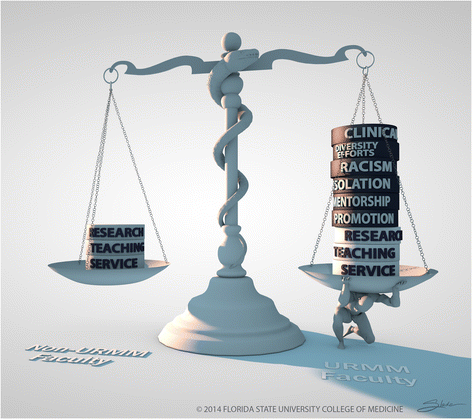 The inequities described make it very difficult for them to remain and advance in academic medicine. It is also a regressive disparity—URMM faculty that have "extra" responsibilities are more likely to be found in the lowest paying ranks.
The relative absence of URMM faculty and especially in leadership roles has a negative effect on all medical students and house staff, but particularly URMM trainees. These negative effects include: less research regarding the health care needs of minority patients, limited exposure to underserved populations, and fewer mentors for URMM students. URMM faculty are essential to pipeline programs, and they provide support for URMM students in the form of role models, educators and mentors [2]. Since URMM faculty teach students to care for underserved/minority patients by caring for those patients themselves, their relative absence among the faculty also has a negative effect on patient care. As the US population becomes more diverse, educators need to ensure that our physician workforce is willing and committed to caring for diverse patients. Increasing the numbers of URMM faculty is an important part of that effort. Since URMM faculty are also more likely to engage in health disparities research than their non-URMM counterparts [5], increasing the proportion of faculty from URMM groups would also benefit the nation's research agenda to eliminate health care disparities.
Addressing the URMM responsibility disparity
We can learn of effective ways to eliminate these disparities affecting URMM faculty from our colleagues in human resources. Among possible interventions are:
1.

Value diversity effort fairly [

22

]

a.

Recognize that the URMM responsibility disparity exists and adjust assignment of responsibilities accordingly

b.

Work to ensure that clinical and community endeavors are counted toward promotion

c.

Assign promotion value to work in the area of diversity

2.

3.

Eliminate all forms of discrimination

a.

Institute policies and procedures that address and correct bias [

6

]

i.

Move beyond compliance with the Americans with Disabilities Act and Title VII to establish robust accountability systems for acts of discrimination by including it in annual evaluations.

b.

Facilitate and support relationship formation among faculty, administrators, and learners [23].

c.

Encourage positive curiosity when encountering "otherness" and recognize differences in faculty as benefitting our institutions [

23

].

i.

Seek training in unconscious bias for all faculty to help recognize its role in discrimination.

4.

Ensure clear, frank, honest communication between administration and faculty to avoid faculty discouragement.

a.

Develop transparent communication in the promotion and tenure process.

b.

Develop opportunities for explicit conversations (i.e. professionally moderated retreats) about personal values to amplify the meaning faculty find in the practice of medicine and in their careers [23].

5.

Develop an employee retention strategy [

22

]

a.

This could take the form of faculty development that focuses on:

i.

ii.

iii.

Professional skill development

1.

Understanding the prevalence and acceptance of unconscious bias

2.

Teaching acceptable institution specific behaviors to address silent racism.

3.

Dealing with micro-aggressions and stereotype threat [24]

4.

Avoiding isolation and marginalization

iv.
The authors propose that these changes could make a career in academic medicine much more attractive to URMM faculty, and can, in effect, begin to alleviate the URMM faculty responsibility disparity, and make academic medicine a more equitable career choice for graduating URMM residents. Similarly to repealing taxes, addressing these disparities requires political stamina, negotiation and coalition building. It requires a champion in the ruling body who is willing to use political capital to establish faculty equity. Diversifying academic leadership can help alleviate the URMM responsibility disparity. In addition to the cited proven institutional change programs, further research on interventions to address the URMM faculty responsibility disparity is necessary to evaluate their effectiveness. These interventions once implemented, can hopefully help create a healthy, diverse, and inclusive environment that will benefit all members of the academic community and improve health care.
Ethics
The Human Subjects Committee at the Florida State University Institutional Review Board (IRB) does not require ethics approval for manuscripts using data that has already been published. Since this paper only uses that type of data, it is exempt from IRB review.
Abbreviation
URMM:

Underrepresented Minorities in Medicine
Declarations
Acknowledgements
The authors would like to thank Tana J. Welch PhD for her valuable review of our work throughout the process of writing this paper. We would also like to acknowledge Jodi Slade, who created the figure illustrating the minority faculty disparity.
Authors' Affiliations
(1)
The Center for Underrepresented Minorities in Academic Medicine at The Florida State University College of Medicine, Tallahassee, USA
(2)
Women's Studies Research Center, Waltham, USA
Copyright
© Rodríguez et al.; licensee BioMed Central. 2015
This article is published under license to BioMed Central Ltd. This is an Open Access article distributed under the terms of the Creative Commons Attribution License (http://creativecommons.org/licenses/by/4.0), which permits unrestricted use, distribution, and reproduction in any medium, provided the original work is properly credited. The Creative Commons Public Domain Dedication waiver (http://creativecommons.org/publicdomain/zero/1.0/) applies to the data made available in this article, unless otherwise stated.