Debate

Open Access

Open Peer Review
This article has Open Peer Review reports available.
Should essays and other "open-ended"-type questions retain a place in written summative assessment in clinical medicine?
BMC Medical Education
2014
14:249
Received: 8 May 2014
Accepted: 7 November 2014
Published: 28 November 2014
Abstract
Background
Written assessments fall into two classes: constructed-response or open-ended questions, such as the essay and a number of variants of the short-answer question, and selected-response or closed-ended questions; typically in the form of multiple-choice. It is widely believed that constructed response written questions test higher order cognitive processes in a manner that multiple-choice questions cannot, and consequently have higher validity.
Discussion
An extensive review of the literature suggests that in summative assessment neither premise is evidence-based. Well-structured open-ended and multiple-choice questions appear equivalent in their ability to assess higher cognitive functions, and performance in multiple-choice assessments may correlate more highly than the open-ended format with competence demonstrated in clinical practice following graduation. Studies of construct validity suggest that both formats measure essentially the same dimension, at least in mathematics, the physical sciences, biology and medicine. The persistence of the open-ended format in summative assessment may be due to the intuitive appeal of the belief that synthesising an answer to an open-ended question must be both more cognitively taxing and similar to actual experience than is selecting a correct response. I suggest that cognitive-constructivist learning theory would predict that a well-constructed context-rich multiple-choice item represents a complex problem-solving exercise which activates a sequence of cognitive processes which closely parallel those required in clinical practice, hence explaining the high validity of the multiple-choice format.
Summary
The evidence does not support the proposition that the open-ended assessment format is superior to the multiple-choice format, at least in exit-level summative assessment, in terms of either its ability to test higher-order cognitive functioning or its validity. This is explicable using a theory of mental models, which might predict that the multiple-choice format will have higher validity, a statement for which some empiric support exists. Given the superior reliability and cost-effectiveness of the multiple-choice format consideration should be given to phasing out open-ended format questions in summative assessment. Whether the same applies to non-exit-level assessment and formative assessment is a question which remains to be answered; particularly in terms of the educational effect of testing, an area which deserves intensive study.
Keywords
AssessmentConceptual changeEssayMental modelsMEQMultiple choice
Background
Learning and the stimulation of learning by assessment
Modern definitions of learning, such as that attributed to Siemens: "Learning is a continual process in which knowledge is transformed into something of meaning through connections between sources of information and the formation of useful patterns, which generally results in something that can be acted upon appropriately, in a contextually aware manner" [1],[2] essentially stress two points: firstly, that learning requires a much deeper, effortful and purposeful engagement with the material to be learned than the acquisition of factual knowledge alone; secondly, that learned knowledge does not exist in a vacuum; its existence is inferred from a change in the learner's behaviour. This has led transfer theorists to postulate that knowledge transfer is the basis of all learning, since learning can only be recognised by observing the learner's ability to display that learning later [3],[4].
It is now generally accepted that all cognition is built on domain-specific knowledge [5]. Content-light learning does not support the ability to transfer knowledge to new situations and a comprehensive store of declarative or factual knowledge appears essential for transfer [4]. Furthermore, a high order of understanding and contextualization must accompany the declarative knowledge if it is to be successfully applied later. Where transfer – in other words, the successful application of knowledge to new situations – has been shown, the common factor appears to be deep learning, and the abstraction of general principles [6]-[8].
Indeed, knowledge may be acquired and held at varying depths. Aspects of this are reflected in the cognitive levels of learning constituting Bloom's taxonomy of learning [
9
]-[
14
] (Figure
1
); the varying levels of clinical competence and performance described in Miller's pyramid [
15
] (Figure
2
) and the stages of proficiency postulated by Dreyfus and Dreyfus [
16
]. The extent to which different assessment formats measure proficiency over the entire range of complexity of understanding and performance is one of the central issues in assessment.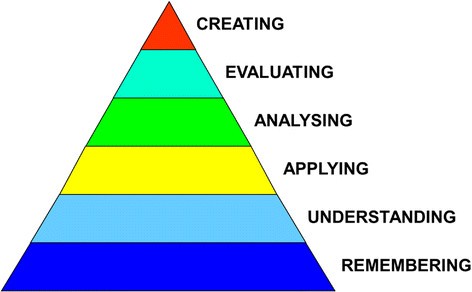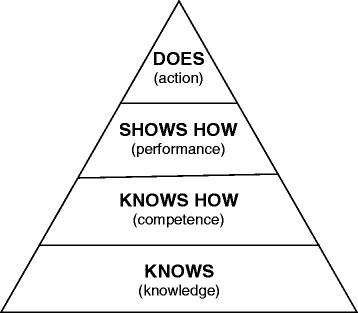 Assessment is central to the educational process, and has benefits beyond that of measuring knowledge and competence alone; principally in directing and stimulating learning, and in providing feedback to teachers and learners [17]. Recent research supports a critical role for assessment in consolidating learning, and strengthening and facilitating memorisation and recall. There is accumulating evidence that the process of stimulating recall through testing enhances learning and retention of learned material. This has been termed the testing effect, and several hypotheses have been put forward to explain it, including increased cognitive effort, conceptual and semantic processing, and increased attention to the properties distinguishing the learnt item from similar items, which strengthens the relationship between the cue which triggers the memory and the memory item itself [18],[19]. It appears to be principally the act of retrieving information from memory which strengthens knowledge and knowledge retention [20],[21], irrespective of whether retrievable is covert or overt [22]. Importantly, high-level questions appear to stimulate deeper conceptual learning and better learning retention then those pitched at a lower level [23]. A number of strategies have been proposed to exploit this in educational practice, including those recently summarised for use in medical education [24]. This is in a sense related to the "generation effect", where it has been shown that spontaneously generating information as opposed to learning it passively improves subsequent recall [18],[19].
Assessment in educational practice
It is accepted that standards of assessment are inherently variable. There is therefore an obligation, in summative assessment, to ensure that assessment meets certain minimum criteria [25]. Achieving this in the individual instance is challenging, given the wide range of skills and knowledge to be assessed, marked variation in the knowledge of assessment of those who must assess and the highly variable environments in which the assessment takes place. There is now an extensive literature on assessment, in terms of research, guidelines and recommendations [26],[27]. Importantly, modern approaches recognise that no single form of assessment is suitable for every purpose, and stressed the need for programmatic assessment, which explicitly recognises that assessment is best served by a careful combination of a range of instruments matched to a particular purpose at each stage of the learning cycle, such as for formative, diagnostic or summative purposes [25],[26],[28].
Written assessment
Despite the proliferation of assessment methodologies which attempt to test the competence of medical students directly, such as OSCE, OSPE, case-based assessment, mini-CEX and workplace-based assessment, written assessments remain in widespread use. Much of the knowledge base required by the clinician is not necessarily testable in the performance format. Additionally, in comparison with most practical assessment formats, written tests are easier to organize and deliver, requiring little more than pen and paper or a computer, a venue, question setters and markers who need not be physically present.
In general, all forms of written assessment may be placed into one of two categories. Constructed response or open-ended questions include a variety of written formats in which the student is required to generate an answer spontaneously in response to a question. The prototypical example is the essay. There are many variants including short answer questions (SAQ), mini-essay questions, single-word and single-sentence questions and the modified essay question (MEQ). The selected-response or closed-ended format is typified by the multiple-choice question (MCQ) assessment, where candidates select the most appropriate answer from a list of options rather than generating an answer spontaneously. Many variants of the multiple-choice format have been used: current best practice recommends the use of one-best-answer (of three, four or five possible answers), and extended matching item (EMI) formats [29]. In this debate I shall use the term open-ended when referring to the constructed-response format, and multiple-choice as a synonym for the selected-response format.
All high-stakes assessments should meet an adequate standard in terms of quality and fairness, as measured by a number of parameters, summarised recently in a consensus statement [30]. Principal among these are the classic psychometric parameters of reproducibility (reliability or consistency; that a result would not essentially change with retesting under similar conditions), and validity or coherence, which I describe in detail below. Other important measures by which assessments should be judged are equivalence (assessments administered at different institutions or during different testing cycles produce comparable outcomes), feasibility (particularly in terms of efficiency and cost effectiveness), educational effect (the student who takes the assessment is thereby motivated to undertake appropriate learning), catalytic effect (the assessment provides outcomes that, when fed back into the educational programme, result in better teaching and learning) and acceptability to both teachers and learners.
It is generally accepted that the multiple-choice format, in contrast to the open-ended format, has high reliability and is efficient, a consequence primarily of wide sampling, and to a lesser extent, of its objectivity. In support of the open-ended format, it has been widely held that this format is superior at testing higher cognitive levels of knowledge and has greater validity. This belief is intuitively appealing and appears to represent the viewpoint of many of those involved in medical assessment, including those with extensive knowledge and experience in medical education. In an attempt to gain the best of both formats, there has been a shift from the prototypical essay towards newer formats comprising a larger number of short, structured questions, a development intended to retain the perceived benefit of the open-ended question with the superior reliability of the MCQ.
Thus the two formats are generally seen to be in tension, MCQ being significantly more reliable, the open-ended format having greater validity. In this debate I will compare the performance of the open-ended format with MCQ in summative assessment, particularly in final exit examinations. I draw attention to the large body of evidence which supports the view that, in summative assessment, the multiple-choice format is intrinsically able to provide all the value of the open-ended format and does so more reliably and cost effectively, thus throwing into question the justification for the inclusion of the open-ended format in summative assessment. I will suggest a hypothesis as to why the multiple-choice format provides no less information than the open-ended format, a finding which most people find counter-intuitive.
A critical concept is that assessment is not only of learning, but also for learning [27],[31]. In the first case, the purpose of assessment is to determine whether that which is required to be learnt has in fact been learnt. In the second case, it is acknowledged that assessment may in itself be a powerful driver for learning at the cognitive level. This is supported by a body of evidence indicating the powerful effect of assessment on strengthening memorisation and recall [20],[22],[23]. In this debate I concentrate primarily on summative assessment in its role as assessment of learning; one must however remain aware that those methods of assessment best suited to such summative assessment may not be identical to those best suited to assessment for learning; indeed, it would be surprising if they were.
For the first part of the 20th century, written assessment in medicine consisted largely of essay-writing [30]. Multiple-choice assessment was developed for psychological testing by Robert Yerkes immediately before the First World War and then rapidly expanded for the testing of army recruits. Yerkes was interested in assessing learning capacity—not necessarily human—and applied it to crows [32] and pigs [33] as well as psychiatric patients and mentally challenged subjects, a group among whom it was widely used for a number of years thereafter [34],[35]. Application to educational assessment has been credited to Frederick J. Kelly in 1914, who was drawn to it by its efficiency and objectivity [36].
Throughout its history, the multiple-choice format has had many detractors. Their principal arguments are that closed-ended questions do not stimulate or test complex constructive cognitive processes, and that if the ability to construct rather than choose a correct answer is not actively assessed, there is a potential that it will be neither taught nor learnt [37]-[41].
As Rotfield has stated: "Students proudly show off their high grades, from multiple-choice exams, as if their future careers will depend on knowing which choice to make instead of discerning which choices exist" [42]. Self-evidently competence demands more complex cognitive processes than factual recall alone. The ability to invoke these higher levels of cognition is clearly a skill which should be explicitly assessed. Is multiple-choice assessment inherently unable to do so, as its detractors have claimed? The belief that open-ended questions test high-order cognitive skills whereas multiple-choice questions do not and that therefore by inference open-ended questions evoke and test a reasoning process which is more representative of real-life problem-solving than multiple-choice, is a serious concern which I address in this review. We begin however with a comparison of the two formats in terms of reproducibility and feasibility.
Summary
The argument that open-ended questions do not test higher order cognitive skills, and consequently lack validity, is not supported by the evidence. Some studies may have been confounded by the unfair comparison of high-order items in one format with low-order items in another. This cannot be discounted as partly responsible for the discrepancies noted in some of the work I have referenced, such as that of Hee-Sun et al. [73], yet where the cognitive order of the items have been carefully matched, a number of careful studies suggest that, particularly in science and medicine, the two modalities assess constructs which though probably not identical, overlap to the extent that using both forms of assessment is redundant. Given the advantage of the multiple-choice format in reliability, efficiency and cost-effectiveness, the suggestion that open-ended items may be replaced entirely with multiple-choice items in summative assessment is one which deserves careful consideration. This counter-intuitive finding highlights our lack of understanding of the cognitive processes underlying both clinical competence and its assessment, and suggests that much further work remains to be done. Despite the MCQ format's long pedigree, it is clear that we understand little about the cognitive architecture invoked by this form of assessment. The need for a greater role for theoretical models in assessment research has been stressed [27],[96]. As illustrated in this debate, medical teaching and assessment must be based on a solid theoretical framework, underpinned by reliable evidence. Hard evidence combined with a plausible theoretical model - which must attempt to explain the observations on the basis of cognition - will provide the strongest basis for the identification of effective learning and assessment methodologies.
That the multiple-choice format demonstrates high validity is due in part to the observation that well-constructed, context-rich multiple-choice questions are fully capable of assessing higher orders of cognition, and that they call forth cognitive problem-solving processes which exactly mirror those required in practice. On a theoretical basis it is even conceivable that the multiple-choice format will show superior performance in assessing proficiency in contrast with some versions of the open-ended format; there is indeed empirical evidence to support this in practice [56],[92]. Paradoxically, the open-ended format may demonstrate lower validity than well-written multiple-choice items; since attempts to improve reliability and reduce objectivity by writing highly focused questions marked against standardised, prescriptive marking templates frequently "trivialize" the question, resulting in some increase in reproducibility at the expense of a significant loss of validity [120]. Indeed, I have argued that, based on an understanding of human cognition and problem-solving proficiency, context-rich multiple-choice assessments may be superior in assessing the very characteristics which the proponents of the open-ended format claim as a strength of that format.
Though current evidence supports the notion that in summative assessment open-ended items may well be redundant, this conclusion should not be uncritically extrapolated to situations where assessment for learning is important, such as in formative assessment and in summative assessment at early and intermediate stages of the medical programme given that conclusive evidence with respect to the learning effects of the two formats is as yet awaited.
Author's contribution
The author was solely responsible the literature and writing the article.
Author's information
RJH is currently Dean and Head of the School of Clinical Medicine at the University of KwaZulu-Natal, Durban, South Africa. He studied at the University of Cape Town, specialising in Internal Medicine and subsequently hepatology, before moving to Durban as Professor of Medicine. He has a longstanding interest in medical education, and specifically in the cognitive aspects of clinical reasoning, an area in which he is currently supervising a number of research initiatives.
Abbreviations
MEQ:

Modified essay question
MCQ:

Multiple-choice question
SAQ:

Short answer question
OSCE:

Objective structured clinical examination
Declarations
Acknowledgements
The author would like to thank Dr Veena Singaram for her insightful and challenging appraisal of the manuscript.
Authors' Affiliations
(1)
Clinical and Professional Practice Research Group, School of Clinical Medicine, University of KwaZulu-Natal, Durban, South Africa
References
Siemens G: Connectivism: Learning as Network-Creation. [http://www.elearnspace.org/Articles/networks.htm]
Siemens G: Connectivism: A learning theory for the digital age. Int J Instr Technol Distance Learn. 2005, 2: 3-10.Google Scholar
Perkins DN, Salomon G: Learning transfer. International Encyclopaedia of adult education and training. Edited by: Tuijnman AC. 1996, Pergamon Press, Tarrytown, NY, 422-427. 2Google Scholar
Haskell EH: Transfer of learning: Cognition, Instruction, and Reasoning. 2001, Academic Press, New YorkGoogle Scholar
Spelke E: Initial Knowledge: Six Suggestions. Cognition on cognition. Edited by: Mehler J, Franck S. 1995, The MIT Press, Cambridge, MA US, 433-447.Google Scholar
Barnett SM, Ceci SJ: When and where do we apply what we learn? A taxonomy for far transfer. Psychol Bull. 2002, 128: 612-637.Google Scholar
Brown AL: Analogical Learning and Transfer: What Develops?. Similarity and Analogical Reasoning. Edited by: Vosniadou S, Ortony A. 1989, Cambridge University Press, New York, 369-412.Google Scholar
Gick ML, Holyoak KJ: Schema Induction and Analogical Transfer. 2004, Psychology Press, New York, NY USGoogle Scholar
Bloom BS: The Cognitive Domain. Taxonomy of Educational Objectives, Handbook I. 1956, David McKay Co Inc, New YorkGoogle Scholar
Anderson LW, Krathwohl DR, Airasian PW, Cruikshank KA, Mayer RE, Pintrich PR, Raths J, Wittrock MC: A Taxonomy for Learning, Teaching, and Assessing: a revision of Bloom's Taxonomy of Educational Objectives. 2001, Longman, New YorkGoogle Scholar
Anderson LW, Sosniak LA: Bloom's Taxonomy: A Forty-year Retrospective. Ninety-third yearbook of the National Society for the Study of Education: Part II. Edited by: Anderson LW, Sosniak LA. 1994, University of Chicago Press, Chicago ILGoogle Scholar
Conklin J: A taxonomy for learning, teaching, and assessing: a revision of Bloom's taxonomy of educational objectives. Educ Horiz. 2005, 83: 154-159.Google Scholar
Haladyna TM, Downing SM: A taxonomy of multiple-choice item-writing rules. Appl Meas Educ. 1989, 2: 37-51.Google Scholar
Haladyna TM: Developing and Validating Multiple-choice Test Items. Mahwah NJ: L. Erlbaum Associates; 1999.Google Scholar
Miller GE: The assessment of clinical skills/competence/performance. Acad Med. 1990, 65: S63-S67.Google Scholar
Dreyfus HL, Dreyfus SE, Athanasiou T: Mind over Machine: The Power of Human Intuition and Expertise in the Era of the Computer. 1986, Free Press, New YorkGoogle Scholar
Norcini JJ, Swanson DB, Grosso LJ, Webster GD: Reliability, validity and efficiency of multiple choice question and patient management problem item formats in assessment of clinical competence. Med Educ. 1985, 19: 238-247.Google Scholar
Taconnat L, Froger C, Sacher M, Isingrini M: Generation and associative encoding in young and old adults: The effect of the strength of association between cues and targets on a cued recall task. Exp Psychol. 2008, 55: 23-30.Google Scholar
Baddeley AD, Eysenck MW, Anderson M: Memory. 2010, Psychology Press, New YorkGoogle Scholar
Karpicke J, Grimaldi P: Retrieval-based learning: a perspective for enhancing meaningful learning. Educ Psychol Rev. 2012, 24: 401-418.Google Scholar
Rohrer D, Pashler H: Recent research on human learning challenges conventional instructional strategies. Educ Res. 2010, 39: 406-412.Google Scholar
Smith MA, Roediger HL, Karpicke JD: Covert retrieval practice benefits retention as much as overt retrieval practice. J Exp Psychol Learn Mem Cogn. 2013, 39: 1712-1725.Google Scholar
McDermott KB, Agarwal PK, D'Antonio L, Roediger HL, McDaniel MA: Both multiple-choice and short-answer quizzes enhance later exam performance in middle and high school classes. J Exp Psychol Appl. 2014, 20: 3-21.Google Scholar
Cutting MF, Saks NS: Twelve tips for utilizing principles of learning to support medical education. Med Teach. 2012, 34: 20-24.Google Scholar
Schuwirth LWT, Van der Vleuten CPM: General overview of the theories used in assessment: AMEE Guide No. 57. Med Teach. 2011, 33: 783-797.Google Scholar
Van der Vleuten CP, Schuwirth LW: Assessing professional competence: from methods to programmes. Med Educ. 2005, 39: 309-317.Google Scholar
Schuwirth L, Colliver J, Gruppen L, Kreiter C, Mennin S, Onishi H, Pangaro L, Ringsted C, Swanson D, Van der Vleuten C, Wagner-Menghin M: Research in assessment: Consensus statement and recommendations from the Ottawa 2010 Conference. Med Teach. 2011, 33: 224-233.Google Scholar
Schuwirth LWT, Van der Vleuten CPM: Programmatic assessment and Kane's validity perspective. Med Educ. 2012, 46: 38-48.Google Scholar
Case SM, Swanson DB: Constructing Written Test Questions for the Basic and Clinical Sciences. 2002, National Board of Medical Examiners, Philadelphia, 3Google Scholar
Norcini J, Anderson B, Bollela V, Burch V, Costa MJ, Duvivier R, Galbraith R, Hays R, Kent A, Perrott V, Roberts T: Criteria for good assessment: Consensus statement and recommendations from the Ottawa 2010 Conference. Med Teach. 2011, 33: 206-214.Google Scholar
Shepard LA: The role of assessment in a learning culture. Educ Res. 2000, 29: 4-14.Google Scholar
Coburn CA, Yerkes RM: A study of the behavior of the crow corvus americanus Aud. By the multiple choice method. J Anim Behav. 1915, 5: 75-114.Google Scholar
Yerkes RM, Coburn CA: A study of the behavior of the pig Sus Scrofa by the multiple choice method. J Anim Behav. 1915, 5: 185-225.Google Scholar
Brown W, Whittell F: Yerkes' multiple choice method with human adults. J Comp Psychol. 1923, 3: 305-318.Google Scholar
Yerkes RM: A New method of studying the ideational behavior of mentally defective and deranged as compared with normal individuals. J Comp Psychol. 1921, 1: 369-394.Google Scholar
Davidson C: Davidson CN: Now You See It: How the Brain Science of Attention Will Transform the Way We Live, Work, and Learn. 2011, Viking Press, New YorkGoogle Scholar
Frederiksen JR, Collins A: A Systems Approach to Educational Testing. Technical Report No. 2. 1990, Center for Technology in Education, New YorkGoogle Scholar
Guthrie JT: Testing higher level skills. J Read. 1984, 28: 188-190.Google Scholar
Nickerson RS: New directions in educational assessment. Educ Res. 1989, 18: 3-7.Google Scholar
Stratford P, Pierce-Fenn H: Modified essay question. Phys Ther. 1985, 65: 1075-1079.Google Scholar
Wass V, Van der Vleuten C, Shatzer J, Jones R: Assessment of clinical competence. Lancet. 2001, 357: 945.Google Scholar
Rotfield H: Are we teachers or job trainers?. Acad Mark Sci Q. 1998, 2: 2.Google Scholar
Crocker L, Algina J: Introduction to Classical & Modern Test Theory. 1986, Holt, Rinehart and Winston, Inc., Fort Worth, TXGoogle Scholar
Angoff W: Test reliability and effective test length. Psychometrika. 1953, 18: 1-14.Google Scholar
Palmer EJ, Devitt PG: Assessment of higher order cognitive skills in undergraduate education: modified essay or multiple choice questions? Research paper. BMC Med Educ. 2007, 7: 49-49.Google Scholar
Feletti GI, Smith EK: Modified essay questions: Are they worth the effort?. Med Educ. 1986, 20: 126-132.Google Scholar
Palmer EJ, Duggan P, Devitt PG, Russell R: The modified essay question: its exit from the exit examination?. Med Teach. 2010, 32: e300-e307.Google Scholar
Schuwirth LW, Van der Vleuten CPM: Different written assessment methods: what can be said about their strengths and weaknesses?. Med Educ. 2004, 38: 974-979.Google Scholar
Lukhele R, Thissen D, Wainer H: On the relative value of multiple-choice, constructed response, and examinee-selected items on two achievement tests. J Educ Meas. 1994, 31: 234-250.Google Scholar
Wainer H, Thissen D: Combining multiple-choice and constructed-response test scores: toward a Marxist theory of test construction. Appl Meas Educ. 1993, 6: 103-118.Google Scholar
Facione PA: The California Critical Thinking Skills Test--College Level. Technical Report #1. Experimental Validation and Content Validity. 1990, California Academic Press, Millbrae CAGoogle Scholar
Facione PA, Facione NC, Blohm SW, Giancarlo CAF: The California Critical Thinking Skills Test [Revised]. In Millbrae CA: California Academic Press; 2007.Google Scholar
Rodriguez MC: Construct equivalence of multiple-choice and constructed-response items: A random effects synthesis of correlations. J Educ Meas. 2003, 40: 163-184.Google Scholar
Falk B, Ancess J, Darling-Hammond L: Authentic Assessment in Action: Studies of Schools and Students at Work. 1995, Teachers College Press, United States of AmericaGoogle Scholar
Rethans JJ, Norcini JJ, Baron-Maldonado M, Blackmore D, Jolly BC, LaDuca T, Lew S, Page GG, Southgate LH: The relationship between competence and performance: implications for assessing practice performance. Med Educ. 2002, 36: 901-909.Google Scholar
Wilkinson TJ, Frampton CM: Comprehensive undergraduate medical assessments improve prediction of clinical performance. Med Educ. 2004, 38: 1111-1116.Google Scholar
Baker EL: Standards for Educational and Psychological Testing. Sage Publications, Inc; 2012.Google Scholar
Eignor DR: The Standards for Educational and Psychological Testing. APA Handbook of Testing and Assessment in Psychology, Vol 1: Test Theory and Testing and Assessment in Industrial and Organizational Psychology. Edited by: Geisinger KF, Bracken BA, Carlson JF, Hansen J-IC, Kuncel NR, Reise SP, Rodriguez MC. 2013, American Psychological Association, Washington, DC, US, 245-250.Google Scholar
Eignor DR: Standards for the development and use of tests: The Standards for Educational and Psychological Testing. Eur J Psychol Assess. 2001, 17: 157-163.Google Scholar
Downing SM: Validity: on the meaningful interpretation of assessment data. Med Educ. 2003, 37: 830.Google Scholar
Messick S: The interplay of evidence and consequences in the validation of performance assessments. Educ Res. 1994, 23: 13-23.Google Scholar
Kuechler WL, Simkin MG: Why is performance on multiple-choice tests and constructed-response tests Not more closely related? theory and an empirical test. Decis Sci J Innov Educ. 2010, 8: 55-73.Google Scholar
Norman GR, Smith EK, Powles AC, Rooney PJ: Factors underlying performance on written tests of knowledge. Med Educ. 1987, 21: 297-304.Google Scholar
Bacon DR: Assessing learning outcomes: a comparison of multiple-choice and short-answer questions in a marketing context. J Mark Educ. 2003, 25: 31-36.Google Scholar
Kastner M, Stangla B: Multiple choice and constructed response tests: Do test format and scoring matter?. Procedia - Social and Behav Sci. 2011, 12: 263-273.Google Scholar
Nichols P, Sugrue B: The lack of fidelity between cognitively complex constructs and conventional test development practice. Educ Measurement: Issues Pract. 1999, 18: 18-29.Google Scholar
Bennett RE, Rock DA, Wang M: Equivalence of free-response and multiple-choice items. J Educ Meas. 1991, 28: 77-92.Google Scholar
Bridgeman B, Rock DA: Relationships among multiple-choice and open-ended analytical questions. J Educ Meas. 1993, 30: 313-329.Google Scholar
Thissen D, Wainer H: Are tests comprising both multiple-choice and free-response items necessarily less unidimensional. J Educ Meas. 1994, 31: 113.Google Scholar
Lissitz RW, Xiaodong H, Slater SC: The contribution of constructed response items to large scale assessment: measuring and understanding their impact. J Appl Testing Technol. 2012, 13: 1-52.Google Scholar
Traub RE, Fisher CW: On the equivalence of constructed- response and multiple-choice tests. Appl Psychol Meas. 1977, 1: 355-369.Google Scholar
Martinez ME: Cognition and the question of test item format. Educ Psychol. 1999, 34: 207-218.Google Scholar
Hee-Sun L, Liu OL, Linn MC: Validating measurement of knowledge integration in science using multiple-choice and explanation items. Appl Meas Educ. 2011, 24: 115-136.Google Scholar
Wilson M, Wang W-C: Complex composites: Issues that arise in combining different modes of assessment. Appl Psychol Meas. 1995, 19: 51-71.Google Scholar
Ercikan K, Schwartz RD, Julian MW, Burket GR, Weber MM, Link V: Calibration and scoring of tests with multiple-choice and constructed-response item types. J Educ Meas. 1998, 35: 137-154.Google Scholar
Epstein ML, Lazarus AD, Calvano TB, Matthews KA, Hendel RA, Epstein BB, Brosvic GM: Immediate feedback assessment technique promotes learning and corrects inaccurate first responses. Psychological Record. 2002, 52: 187-201.Google Scholar
Schuwirth LWT, Van der Vleuten CPM: Programmatic assessment: From assessment of learning to assessment for learning. Med Teach. 2011, 33: 478-485.Google Scholar
Bridgeman B, Morgan R: Success in college for students with discrepancies between performance on multiple-choice and essay tests. J Educ Psychol. 1996, 88: 333-340.Google Scholar
Bleske-Rechek A, Zeug N, Webb RM: Discrepant performance on multiple-choice and short answer assessments and the relation of performance to general scholastic aptitude. Assessment Eval Higher Educ. 2007, 32: 89-105.Google Scholar
Hakstian AR: The Effects of Type of Examination Anticipated on Test Preparation and Performance. J Educ Res. 1971, 64: 319.Google Scholar
Scouller K: The influence of assessment method on Students' learning approaches: multiple choice question examination versus assignment essay. High Educ. 1998, 35: 453-472.Google Scholar
Thomas PR, Bain JD: Contextual dependence of learning approaches: The effects of assessments. Human Learning: J Pract Res Appl. 1984, 3: 227-240.Google Scholar
Watkins D: Factors influencing the study methods of Australian tertiary students. High Educ. 1982, 11: 369-380.Google Scholar
Minbashian A, Huon GF, Bird KD: Approaches to studying and academic performance in short-essay exams. High Educ. 2004, 47: 161-176.Google Scholar
Yonker JE: The relationship of deep and surface study approaches on factual and applied test-bank multiple-choice question performance. Assess Eval Higher Educ. 2011, 36: 673-686.Google Scholar
Joughin G: The hidden curriculum revisited: a critical review of research into the influence of summative assessment on learning. Assess Eval Higher Educ. 2010, 35: 335-345.Google Scholar
Scouller KM, Prosser M: Students' experiences in studying for multiple choice question examinations. Stud High Educ. 1994, 19: 267.Google Scholar
Hadwin AF, Winne PH, Stockley DB, Nesbit JC, Woszczyna C: Context moderates students' self-reports about how they study. J Educ Psychol. 2001, 93: 477-487.Google Scholar
Birenbaum M: Assessment and instruction preferences and their relationship with test anxiety and learning strategies. High Educ. 2007, 53: 749-768.Google Scholar
Birenbaum M: Assessment preferences and their relationship to learning strategies and orientations. High Educ. 1997, 33: 71-84.Google Scholar
Smith SN, Miller RJ: Learning approaches: examination type, discipline of study, and gender. Educ Psychol. 2005, 25: 43-53.Google Scholar
Rabinowitz HK, Hojat M: A comparison of the modified essay question and multiple choice question formats: their relationship to clinical performance. Fam Med. 1989, 21: 364-367.Google Scholar
Paterson DG: Do new and old type examinations measure different mental functions?. School Soc. 1926, 24: 246-248.Google Scholar
Schuwirth LW, Verheggen MM, Van der Vleuten CPM, Boshuizen HP, Dinant GJ: Do short cases elicit different thinking processes than factual knowledge questions do?. Med Educ. 2001, 35: 348-356.Google Scholar
Tanner DE: Multiple-choice items: Pariah, panacea or neither of the above?. Am Second Educ. 2003, 31: 27.Google Scholar
Cilliers FJ, Schuwirth LW, van der Vleuten CP: Modelling the pre-assessment learning effects of assessment: evidence in the validity chain. Med Educ. 2012, 46: 1087-1098.Google Scholar
Jonassen DH, Strobel J: Modeling for Meaningful Learning. Engaged Learning with Emerging Technologies. Edited by: Hung D. 2006, Springer, Amsterdam, 1-27.Google Scholar
Derry SJ: Cognitive schema theory in the constructivist debate. Educ Psychol. 1996, 31: 163-174.Google Scholar
Kim MK: Theoretically grounded guidelines for assessing learning progress: cognitive changes in Ill-structured complex problem-solving contexts. Educ Technol Res Dev. 2012, 60: 601-622.Google Scholar
Mayer RE: Models for Understanding. Rev Educ Res. 1989, 59: 43-64.Google Scholar
Jonassen D, Strobel J, Gottdenker J: Model building for conceptual change. Interact Learn Environ. 2005, 13: 15-37.Google Scholar
Jonassen DH: Tools for representing problems and the knowledge required to solve them. Edited by Tergan S-O, Keller T. Berlin, Heidelberg: Springer; 2005:82–94.Google Scholar
Bogard T, Liu M, Chiang Y-H: Thresholds of knowledge development in complex problem solving: a multiple-case study of advanced Learners' cognitive processes. Educ Technol Res Dev. 2013, 61: 465-503.Google Scholar
Van Gog T, Ericsson KA, Rikers RMJP: Instructional design for advanced learners: establishing connections between the theoretical frameworks of cognitive load and deliberate practice. Educ Technol Res Dev. 2005, 53: 73-81.Google Scholar
Schmidt HG, Norman GR, Boshuizen HP: A cognitive perspective on medical expertise: theory and implication. Acad Med. 1990, 65: 611-621.Google Scholar
Schmidt HG, Rikers RMJP: How expertise develops in medicine: knowledge encapsulation and illness script formation. Med Educ. 2007, 41: 1133-1139.Google Scholar
Norman G, Young M, Brooks L: Non-analytical models of clinical reasoning: the role of experience. Med Educ. 2007, 41: 1140-1145.Google Scholar
Ericsson KA, Prietula MJ, Cokely ET: The Making of an Expert. Harv Bus Rev. 2007, 85: 114-121.Google Scholar
Hoffman RR: How Can Expertise be Defined? Implications of Research From Cognitive Psychology. Exploring Expertise. Edited by: Williams R, Faulkner W, Fleck J. 1996, University of Edinburgh Press, Edinburgh, 81-100.Google Scholar
Norman GR: Problem-solving skills, solving problems and problem-based learning. Med Educ. 1988, 22: 279-286.Google Scholar
Ifenthaler D, Seel NM: Model-based reasoning. Comput Educ. 2013, 64: 131-142.Google Scholar
Jonassen D: Using cognitive tools to represent problems. J Res Technol Educ. 2003, 35: 362-381.Google Scholar
Mayer RE, Wittrock MC: Problem-Solving Transfer. Handbook of Educational Psychology. Edited by: Berliner DC, Calfee RC. 1996, Macmillan Library Reference USA, New York, NY, 47-62.Google Scholar
Zhang J, Norman DA: Representations in distributed cognitive tasks. Cogn Sci. 1994, 18: 87-122.Google Scholar
Simon HA: Information-Processing Theory of Human Problem Solving. Handbook of Learning & Cognitive Processes: V Human Information. Edited by: Estes WK. 1978, Lawrence Erlbaum, Oxford England, 271-295.Google Scholar
Jensen JL, Woodard SM, Kummer TA, McDaniel MA: Teaching to the test…or testing to teach: exams requiring higher order thinking skills encourage greater conceptual understanding. Educ Psychol Rev. 2014, 26: 307-329.Google Scholar
Cohen-Schotanus J, Van der Vleuten CPM: A standard setting method with the best performing students as point of reference: practical and affordable. Med Teach. 2010, 32: 154-160.Google Scholar
Desjardins I, Touchie C, Pugh D, Wood TJ, Humphrey-Murto S: The impact of cueing on written examinations of clinical decision making: a case study. Med Educ. 2014, 48: 255-261.Google Scholar
Pretz JE, Naples AJ, Sternberg RJ: Recognizing, Defining, and Representing Problems. The Psychology of Problem Solving. Edited by: Davidson JE, Sternberg RJ. 2003, Cambridge University Press, New York, NY US, 3-30.Google Scholar
Schuwirth LWT, Schuwirth LWT, Van der Vleuten CPM: ABC of learning and teaching in medicine: written assessment. BMJ: British Med J (International Edition). 2003, 326: 643-645.Google Scholar
Copyright
© Hift; licensee BioMed Central. 2014
This article is published under license to BioMed Central Ltd. This is an Open Access article distributed under the terms of the Creative Commons Attribution License (http://creativecommons.org/licenses/by/4.0), which permits unrestricted use, distribution, and reproduction in any medium, provided the original work is properly credited. The Creative Commons Public Domain Dedication waiver (http://creativecommons.org/publicdomain/zero/1.0/) applies to the data made available in this article, unless otherwise stated.