Debate
Open Access
Open Peer Review
This article has Open Peer Review reports available.
Foundation doctors in Anaesthesia: should they be taught to administer an anaesthetic?
BMC Medical Education
2007
7:48
Received: 02 July 2007
Accepted: 28 November 2007
Published: 28 November 2007
Abstract
Background
Anaesthetic pre-registration house officer posts have been available since 1997. With the change to postgraduate medical training introduced in 2005, these posts have become vital building blocks for Foundation Programmes.
Discussion
We debate the skills that new Foundation Programme doctors in such posts should be taught, particularly whether administration of an anaesthetic holds an important place. The opinion of college tutors prior to the institution of the foundation programme is included. These were obtained from a postal questionnaire.
Summary
We maintain that teaching how to administer an anaesthetic remains an important learning objective and something that should be actively pursued.
Keywords
Junior DoctorHouse OfficerFoundation ProgrammeFoundation DoctorSpecialist Trainee
Background
The traditional idea of pre-registration doctors undertaking two 6-month house jobs, one in medicine and one in surgery, often in different hospitals, has been superseded. Since 1997 there has been an increase in pre-registration rotations, which have included specialities such as paediatrics, emergency medicine, obstetrics and gynaecology and anaesthesia with critical care. Much of this stemmed from the publication of The New Doctor in 1997 [
1
], which promoted these 4-month jobs involving an alternative clinical speciality and gave specific and comprehensive objectives for pre-registration house doctors to achieve whilst carrying out their role as a junior doctor. The inclusion of anaesthetics in these pre-registration years has seen substantial growth over the years 1997–2003 (Figure
1
).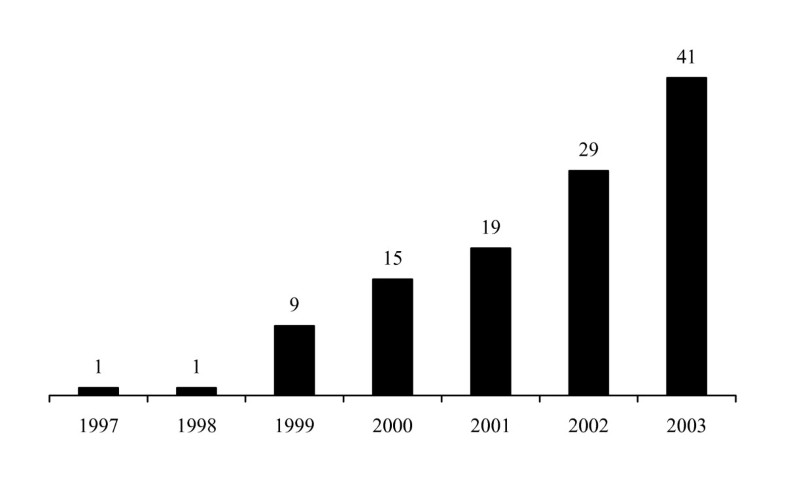 The service role for medical and surgical pre-registration house officers was well defined by the nature of ward and theatre work. The situation is less clear in anaesthesia as the clinical role for pre-registration house officers and now Foundation House officers are undefined. Even new-starter specialty trainees do not undertake a service commitment until they have completed their initial assessment of competency (normally performed after three months) allowing them to work under indirect supervision and take part in on-call commitments [2]. The ability of a pre-registration house doctors to undertake a service role is therefore limited by the need for an intensive initial period of training that lasts almost as long as the post itself. This may create the impression for trainers that there is little motivation or value in teaching pre-registration doctors how to give an anaesthetic.
Previously, Pre-Registration House Officers (PRHOs) in anaesthetics had a supernumerary role which allowed them to receive one-to-one teaching and supervision from a consultant anaesthetist. Time spent in theatre would allow skills in airway management, and line insertion through to being able to administer an anaesthetic to be developed. Often a period of the attachment would be spent in an ITU/HDU setting allowing PRHOs to become familiar with patient treatment at this level and skills in recognising and evaluating critically ill patients. Service commitment was usually made up by taking part in either the surgical or medical on-call rotas.
We debate the importance of being able to administer an anaesthetic. We briefly include own data collected in the final years prior to the institution of the foundation programme as to what college tutors at hospitals incorporating PRHO anaesthetic posts regarded as important.
Summary
Foundation posts in anaesthetics will provide a valuable opportunity for junior doctors to develop important skills.
We feel the skill in giving an anaesthetic should not be overlooked as a target as this brings together previously learnt skills and helps focus the junior doctor.
Authors' Affiliations
(1)
Specialty Trainee 2, Cardiothoracic Surgery, John Radcliffe Hospital Headley Way, Headington, UK
(2)
Specialty Trainee 3, Bradford Royal Infirmary, Duckworth Lane, Bradford, UK
(3)
Specialty Trainee 1, James Cook University Hospital, Middelsbrough, UK
(4)
Consultant Anaesthetist, Cleveland School of Anaesthesia, James Cook University Hospital, Middlesbrough, UK
Copyright
© Phillips et al; licensee BioMed Central Ltd. 2007
This article is published under license to BioMed Central Ltd. This is an Open Access article distributed under the terms of the Creative Commons Attribution License (http://creativecommons.org/licenses/by/2.0), which permits unrestricted use, distribution, and reproduction in any medium, provided the original work is properly cited.