Debate
Open Access
Open Peer Review
This article has Open Peer Review reports available.
Learning from the problems of problem-based learning
BMC Medical Education
2004
4:1
Received: 31 October 2003
Accepted: 09 January 2004
Published: 09 January 2004
Abstract
Background
The last decade has witnessed a rapid expansion of biomedical knowledge. Despite this, fashions in medical education over the same period have shifted away from factual (didactic) teaching and towards contextual, or problem-based, learning (PBL). This paradigm shift has been justified by studies showing that PBL improves reasoning and communication while being associated with few if any detectable knowledge deficits.
Discussion
Analysis of the literature indicates that the recent rapid rise of PBL has closely paralleled the timing of the information explosion. The growing dominance of PBL could thus worsen the problems of information management in medical education via several mechanisms: first, by creating the impression that a defined spectrum of core factual knowledge suffices for clinical competence despite ongoing knowledge expansion (quality cost); second, by dissuading teachers from refining the educational utility of didactic modalities (improvement cost); and third, by reducing faculty time for developing reusable resources to impart factual knowledge more efficiently (opportunity cost).
Summary
These costs of PBL imply a need for strengthening the knowledge base of 21st-century medical graduates. New initiatives towards this end could include the development of more integrated cognitive techniques for facilitating the comprehension of complex data; the design of differentiated medical curricula for producing graduates with defined high-priority skill sets; and the encouragement of more cost-effective faculty teaching activities focused on the prototyping and testing of innovative commercializable educational tools.
Keywords
knowledge management, medical education
Background
Many doctors have commented that their medical education began in earnest on the first day that they entered the hospital wards as a hands-on practitioner. Claims of this kind support the view that the apprenticeship model of professional learning – which has been the backbone of training in the healing arts for thousands of years [1] – remains as central to medical career development today as ever [2]. A perennial complaint of the medical apprentice-in-training is that there are too few structured teaching activities within the busy world of postgraduate work [3], a concern which many institutions have addressed by developing formalised continuing education initiatives reminiscent of medical school courses [4–6]. Predictably, different complaints prevail at the pre-licensure phase of the training spectrum, where students often feel more motivated to acquire the (implicit) competence of the practising doctor [7, 8] than to absorb large volumes of (explicit) scientific and/or humanistic theory [9, 10].
Such feelings underlie an unresolved debate over the optimal balance between factual ('teaching', or content-based) and practical ('training', or performance-based) components of professional development [
11
] and, as such, could explain a recent drift away from the didactic emphasis of older biomedical educative approaches [
12
] and towards quasi-experiential, or problem-based, learning [
13
,
14
] (PBL; Figure
1A
). This hypothesis cannot fully account for the PBL-led transformation of medical teaching in the 1990s, however, overlooking as it does a powerful contrary trend: the explosive proliferation of biomedical knowledge [
15
,
16
] as epitomized by the completion of the Human Genome Project [
17
]. Although at first sight contradictory, this reciprocal relationship between knowledge growth and didactic teaching invites a unifying explanation: namely, that the switch of educational philosophy to non-didactic methods represents a strategy for teachers and students to cope with the expansile information environment [
18
,
19
].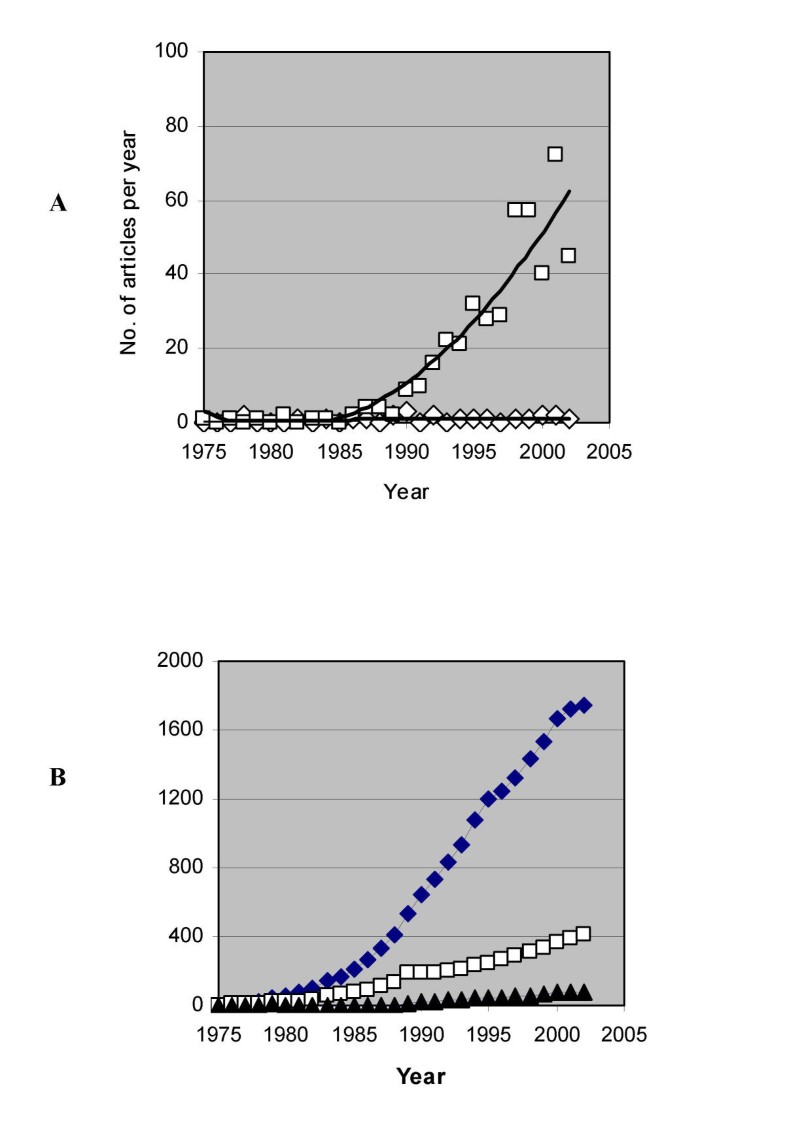 There are many things which a fresh medical student, unburdened by factual knowledge, can begin to learn: basic surgical methods, resuscitation interventions, generic reasoning skills, and counselling techniques, to name a few. The pivotal question, then, is not whether such context-dependent (but sequence-independent) learning will prove effective [20]; rather, it is why this reorientation of teaching philosophy has occurred at all, and at this time. Or to put the issue another way: what is the hard evidence indicating that the original educational system was broken and that the new system is likely to fix it?
A secondary issue, which has been a prime concern of PBL critics [21], is whether there may prove to be long-term hidden costs payable for the clear short-term benefits afforded by the PBL teaching philosophy. Since there are major differences in the way that PBL is implemented between schools, evidence to confirm or refute such hypotheses may be impossible to assemble. By the same token, it is an oversimplification to view all PBL as having low fact-based content, just as it is to equate all older teaching methods with rote learning. Nonetheless, since PBL veers more to the active/contextual, and didactic teaching to the passive/factual, it is plausible that one bias occurs at the expense of the other.
Summary
The knowledge explosion of the last two decades has been accompanied by a decreasing reliance on didactic teaching. This educational paradigm shift has been led by widespread embracement of PBL, the original rationale of which was to improve students' ability to reason and communicate. In recent years, however, PBL has grown more rapidly in apparent response to information overload in medical school curricula, and may thus be viewed as a symptom of the problem of biomedical knowledge expansion.
The challenge of defining the right balance between what is taught, what is learned, and what remains unlearned will not disappear. Although few knowledge deficits have been detected in today's PBL-educated students, a decreasing concern with the adequacy of the professional knowledge base could yet erode the future credibility of the medical profession. By continuing to rely on popular PBL escape clauses such as 'self-directed learning' and 'information management', today's medical educators risk losing sight of this longterm threat.
The era of active learning began thousands of years ago with the first apprentice. We now live in a new era with new challenges, one of which is exponential information expansion. PBL provides one way for faculty and students to cope with this challenge, but sidesteps deeper issues relating to the widening core of essential professional knowledge. Innovative curricular experiments using educational strategies complementary to PBL would therefore appear timely.
Abbreviations
PBL:

problem-based learning
Declarations
Acknowledgements
The author thanks Professor Joe Muller, as well as two named journal reviewers, for constructive feedback on the manuscript.
Authors' Affiliations
(1)
Department of Medicine, University of Hong Kong, Queen Mary Hospital, Pokfulam, Hong Kong
Copyright
© Epstein; licensee BioMed Central Ltd. 2004
This article is published under license to BioMed Central Ltd. This is an Open Access article: verbatim copying and redistribution of this article are permitted in all media for any purpose, provided this notice is preserved along with the article's original URL.