Research article
Open Access
Open Peer Review
This article has Open Peer Review reports available.
Arthroscopic proficiency: methods in evaluating competency
BMC Medical Education
2013
13:61
Received: 7 June 2012
Accepted: 22 April 2013
Published: 1 May 2013
Abstract
Background
The current paradigm of arthroscopic training lacks objective evaluation oftechnical ability and its adequacy is concerning given the acceleratingcomplexity of the field. To combat insufficiencies, emphasis is shiftingtowards skill acquisition outside the operating room and sophisticatedassessment tools. We reviewed (1) the validity of cadaver and surgicalsimulation in arthroscopic training, (2) the role of psychomotor analysisand arthroscopic technical ability, (3) what validated assessment tools areavailable to evaluate technical competency, and (4) the quantification ofarthroscopic proficiency.
Methods
The Medline and Embase databases were searched for published articles in theEnglish literature pertaining to arthroscopic competence, arthroscopicassessment and evaluation and objective measures of arthroscopic technicalskill. Abstracts were independently evaluated and exclusion criteriaincluded articles outside the scope of knee and shoulder arthroscopy as wellas original articles about specific therapies, outcomes and diagnosesleaving 52 articles citied in this review.
Results
Simulated arthroscopic environments exhibit high levels of internal validityand consistency for simple arthroscopic tasks, however the ability totransfer complex skills to the operating room has not yet been established.Instrument and force trajectory data can discriminate between technicalability for basic arthroscopic parameters and may serve as useful adjunctsto more comprehensive techniques. There is a need for arthroscopicassessment tools for standardized evaluation and objective feedback oftechnical skills, yet few comprehensive instruments exist, especially forthe shoulder. Opinion on the required arthroscopic experience to obtainproficiency remains guarded and few governing bodies specify absolutequantities.
Conclusions
Further validation is required to demonstrate the transfer of complexarthroscopic skills from simulated environments to the operating room andprovide objective parameters to base evaluation. There is a deficiency ofvalidated assessment tools for technical competencies and little consensusof what constitutes a sufficient case volume within the arthroscopycommunity.
Keywords
ArthroscopyCompetencySurgical trainingTask performance
Background
The evolution of diagnostic and therapeutic techniques has made arthroscopy one ofthe most commonly performed orthopaedic procedures [1]. Despite its prevalence, arthroscopy is technically demanding requiringvisual-spatial coordination to manipulate instruments while interpretingthree-dimensional structures as two-dimensional images. These skills aretraditionally acquired through the apprenticeship model of step-wise involvement inthe operating room, but the process is inefficient in terms of time and cost andassociated with iatrogenic injury to the patient [2–5]. With the increasing complexity of arthroscopic procedures and theimplementation of work-hour restrictions, the adequacy of arthroscopic trainingduring residency has become a concern [6, 7].
To combat insufficiencies, emphasis in post-graduate training is shifting towardsspecific skill acquisition and the achievement of technical competencies [8]; this is the rationale behind improving arthroscopic skill developmentoutside of the operating room. The advent of surgical simulation, psychomotorconditioning and the cadaveric bioskills laboratory as useful training adjuncts isencouraging [4, 5, 9–15]. Despite these efforts, evidence suggests that residents feel lessprepared in arthroscopic training compared to open procedures and a substantialnumber of procedures may be required to become proficient [16–18]. The necessary operative experience and instruction to attain competencyis uncertain. Currently, the Residency Review Committee for the AccreditationCouncil of Graduate Medical Education (ACGME) requires only a record of completedarthroscopic procedures and does not specify what constitutes a sufficient casevolume [19].
As pressures for training standardization and certification mount, there remains noobjective testing to evaluate arthroscopic competency at the end of an orthopaedicresidency [20–22]. The identification of effective arthroscopic teaching methods andevaluation tools is first necessary to determine what constitutes sufficienttraining. There is need for comprehensive assessment using true indicators ofcompetence as consensus on defining competence and quantifying arthroscopicproficiency has not been established.
In this article, we reviewed knee and shoulder arthroscopy with respects to (1) thevalidity of cadaveric models and surgical simulation in arthroscopic training, (2)the role of psychomotor analysis and arthroscopic technical ability, (3) whatvalidated assessment tools are available to evaluate technical competency, and (4)how arthroscopic proficiency is quantified by the regulating bodies and orthopaedicsocieties.
Methods
A comprehensive search of the Ovid MedLine (Figure
1
) andEMBASE (Figure
2
) databases published in the Englishliterature was performed. Search terms were altered for each database according toits method of subheading mapping. The search results and number of studies found ateach stage are listed below: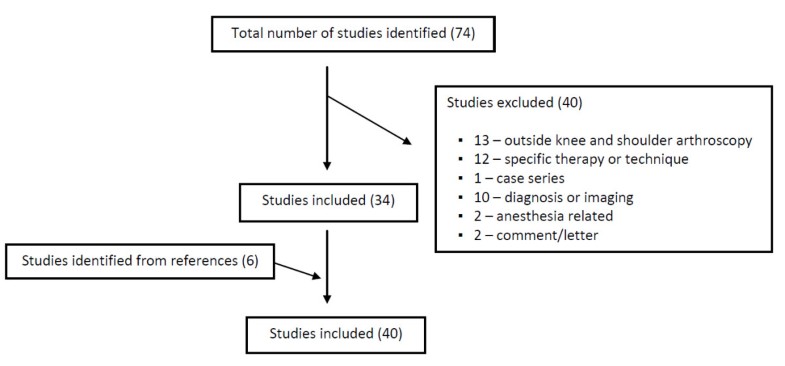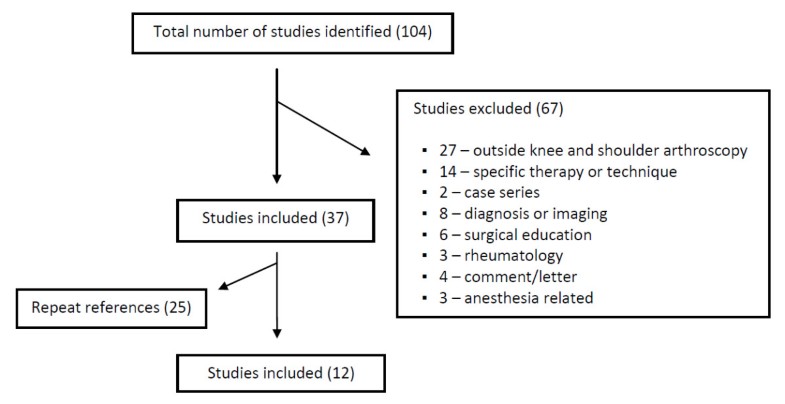 Ovid MedLine: 1996 to February Week 2, 2013
1.

exp Clinical Competence: 47 976

2.

exp Learning curve: 4 588

3.

exp Task Performance and Analysis: 18 681

4.

5.

6.

7.

Limit 6 to English language and Humans: 74
EMBASE: 1980 to February Week 2, 2012
1.

2.

exp surgical training: 10 573

3.

exp task performance: 93 865

4.

exp learning curve: 1 862

5.

1 or 2 or 3 or 4: 185 919

6.

7.

8.

Limit 6 to English language and Humans: 104
Two reviewers (JLH, CV) independently evaluated the abstracts of the search results.Studies selected underwent fulltext reviews and were original research or reviewarticles pertaining to (1) arthroscopic competence, (2) arthroscopic assessment andevaluation, and/or (3) objective measures of arthroscopic technical skill. Exclusioncriteria included article topics (1) outside the scope of knee and shoulderarthroscopy, (2) therapeutic treatments and outcomes, (3) diagnostic imaging, and(4) case series. Studies were excluded only if there was mutual agreement betweenthe two reviewers. Relevant references from each of the remaining articles wereexamined for inclusion. Articles were then cross-referenced to discard repeatedreferences, leaving 52 orthopaedic articles cited in this review.
Discussion
The current paradigm of arthroscopic training combined with increased complexity andfrequency of procedures has led to questioning of its adequacy. This review examinesarthroscopic skill development constructs, objective assessment tools, andguidelines regarding arthroscopic competencies.
Cadaver specimens are a highly regarded training modality for arthroscopic technicalskill development and remain the gold standard for training outside of the operatingroom. Despite concerns regarding pathology consistency in specimens, cost andavailability are the primary constraints to their widespread use [4]. The introduction of synthetic and plastic bone models have the advantageof anatomical reproducibility without maintenance or ethical issues, but have beencriticized for a lack of face validity [64].
Computer-based simulators are moving from the experimental stages with establishedconstruct validity in knee and shoulder arthroscopy [5, 12, 13, 32, 33]. Improved, less-expensive computer hardware has made the technology morereadily available fueling the investigation of their training potential inarthroscopic task performance. These studies have high levels of internal validityand consistency, although most involve only basic arthroscopic skills, such asorientation and triangulation or only demonstrate improved performance inindividuals with no previous arthroscopic experience [65]. Likewise, most validated simulators are only sensitive enough todiscriminate between expert and novice skill levels [66]. The ability to detect smaller, yet clinically significant differencesbetween intermediate skill levels is required to establish benchmarks and provideobjective feedback to the training population of residents.
Studies focusing on complex tasks, such as simulated arthroscopic meniscal repairhave exhibited learning curves and skill retention, but whether this translates intoimproved performance within the operating room has not yet been established [67]. Two systematic reviews have failed to identify sufficient evidence oftransfer validity within the arthroscopic literature [66, 68]. This is also complicated by the heterogenicity of existing simulatorsbeing subjected to validity testing [66]. Further high-quality studies are required before the widespreadacceptance of these tools into mainstream arthroscopic training programs. Thisincludes the establishment of skill-sensitive simulators with standardized validityprotocols that consistently translate into improved technical performance in theoperating room.
Surgical dexterity focusing on parameters extracted from instrument force andtrajectory data may provide an alternate means of objective evaluation. A greatervariety of force signatures and a reduction in excessive and unnecessary probeforces by expert compared to novice arthroscopists has been demonstrated within theknee model [32, 38]. The use of motion analysis to discriminate between levels ofarthroscopic experience in terms of economy of instrument movement and probevelocity has been validated in both knee and shoulder simulation [5, 32, 37, 44, 45]. As with arthroscopic simulations and cadavers, psychomotor analysis hasonly been validated when performing basic arthroscopic tasks predominantly insimulated environments and does not provide a comprehensive assessment ofperformance. However, these parameters may serve as potential adjuncts totraditional means of evaluation and have a role in selecting individuals forsurgical disciplines based on innate arthroscopic ability. Significant differencesin multiple motion analysis parameters was shown in medical students who failed toachieve competence despite sustained practice when completing an arthroscopic taskin knee and shoulder models compared to those who achieved competence [69, 70].
Traditional arthroscopic training during residency lacks a standardized, objectiveevaluation system. The existing preceptor-dependent model is subjective andinefficient in terms of time and cost [2, 11, 23, 43]. There are a limited number of studies dedicated to the development andvalidation of comprehensive assessments of arthroscopic technical skills. The BasicArthroscopic Knee Scoring System can discriminate between different levels ofarthroscopic expertise, but has only been validated in cadaver specimens and whenperforming basic arthroscopic tasks [17]. Similarly, modifications to the intra-operative technique guidelines ofthe Orthopaedic Competence Assessment Project and the addition of a tailed OSATSscale were applied to assess diagnostic knee arthroscopy [13, 55]. The project demonstrated transfer validity to the operating theatre, butsimulator-trained subjects were compared to those with no training at all. Morerecently, comprehensive global assessment instruments such as the ArthroscopicSkills Assessment Form and the OAAS instrument have been shown to discriminatebetween various skills levels of training and provide additional domains ofevaluation with high levels of internal consistency. Objective assessment tools areessential for effective and efficient learning as deficiencies in performance aredifficult to correct without objective feedback [17]. Yet, few such instruments exist within the arthroscopic literature,particularly for the shoulder.
The case volume required to be considered competent in a specific arthroscopicprocedure remains uncertain [16, 18]. The Residency Review Committee for the ACGME only requires a log ofaccumulated arthroscopic procedures and no objective evaluation of technical skillsexists at the completion of residency [20–22]. The AANA does not designate a numerical value to be proficient inarthroscopy and concedes that residency training alone does not guarantee competency [60, 61]. Consensus on what constitutes a sufficient repetition of a procedurevaries considerably when surveying the orthopaedic community and there is a tendencyfor underestimation by those who perform arthroscopy sparingly [18, 63]. There is suggestion that proficiency in arthroscopy is only attainedafter completing a case range equivalent to that of a sports medicine fellowship [17]. Few would contest that there is no substitute for experience, but howmuch is needed and when proficiency is achieved remains unknown.
Conclusion
There is uncertainty concerning the adequacy of arthroscopic training and the bestmeans to achieve technical competencies. Skill acquisition utilizing surgicalsimulation requires further demonstration of transfer validity and the applicationof complex arthroscopic tasks in these environments. Valid assessment toolsevaluating technical performance are required to establish objective parameters inarthroscopic training to generate standardized benchmarks of competency andultimately improve technical proficiency.
Declarations
Acknowledgements
There are no acknowledgements that the authors wish to disclose.
Authors' Affiliations
(1)
Division of Orthopaedics, Toronto Western Hospital, Toronto, Canada
(2)
University of Toronto Sports Medicine Program, Women's CollegeHospital, Toronto, Canada
Copyright
© Hodgins and Veillette; licensee BioMed Central Ltd. 2013
This article is published under license to BioMed Central Ltd. This is an Open Access article distributed under the terms of the Creative CommonsAttribution License (http://creativecommons.org/licenses/by/2.0), whichpermits unrestricted use, distribution, and reproduction in any medium, provided theoriginal work is properly cited.